A simple French Potato Salad with fresh herbs – tarragon, parsley and chives, with a flavorful Dijon Vinaigrette. Healthy, vegan and light with no mayo!  
Savory, quick, and easy, this French Potato Salad is simple to make, yet deeply satisfying. It pairs well with so many things and is perfect for gatherings and potlucks.
It highlights fresh colorful potatoes that are abundant right now at local farmers' markets- so many fun varieties to choose from!
Here we've used purple fingerlings, German butterball, red potatoes, and Yukon golds.  Play around with different varieties for diverse flavor, shape, and color. Thin-skinned potatoes work best here. 
Fresh herbs like tarragon, parsley, and chives enhance the flavors making it taste quite magical. Tarragon adds a unique complexity to the salad, and is a classic ingredient in true French Potato Salad – but if you wish, you can substitute different tender herbs like dill or basil.  
 The flavors are more intense warm or at room temperature but still quite good served chilled. 
A perfect end-of-summer salad or side dish!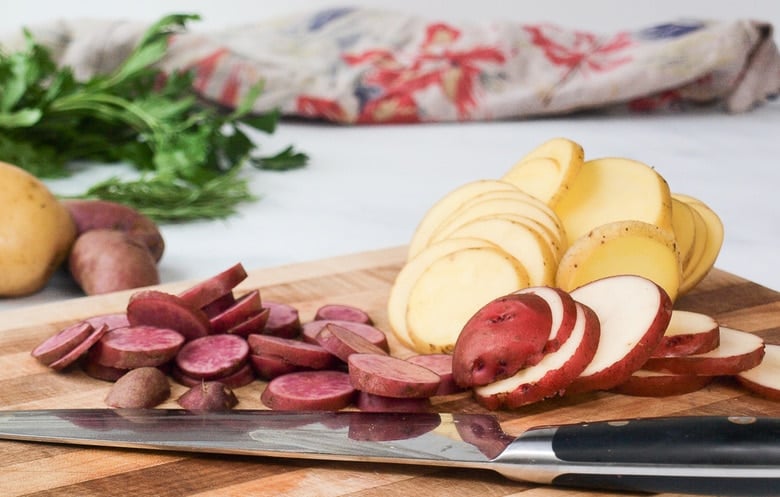 Slice the potatoes into 1/4-inch thick rounds.
'Cover with water and add the salt.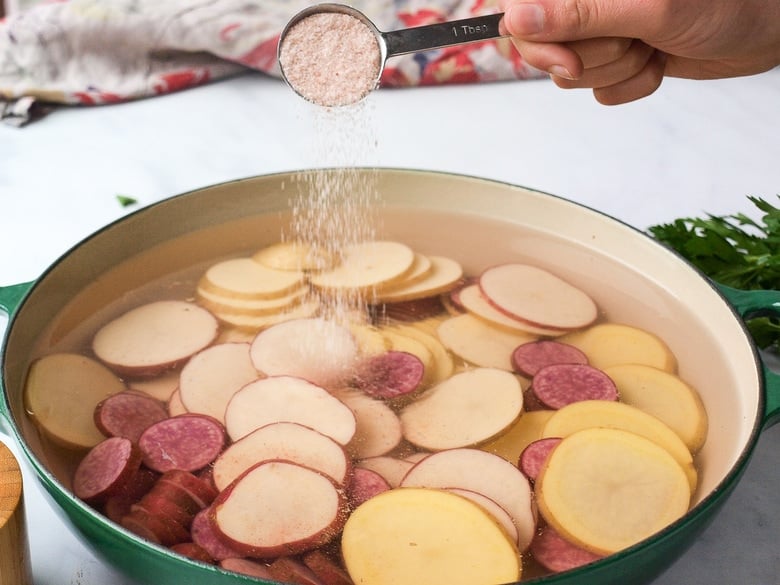 Add whole garlic cloves to the simmering water.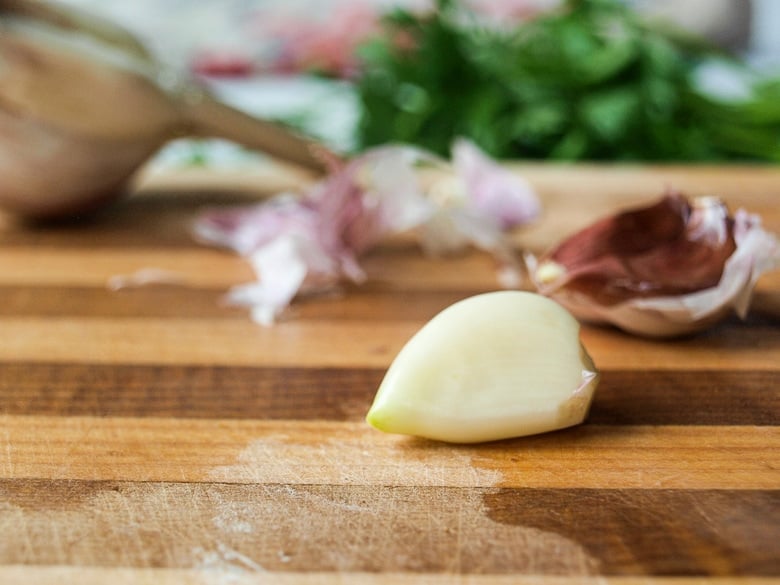 While the potatoes simmer and soften (about 5 minutes) make the Dijon Vinaigrette and chop the fresh herbs.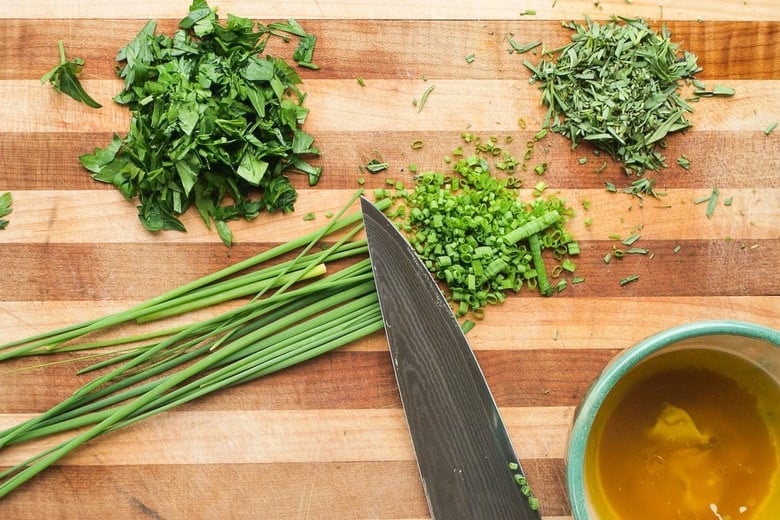 Drain the potatoes and let them cool slightly.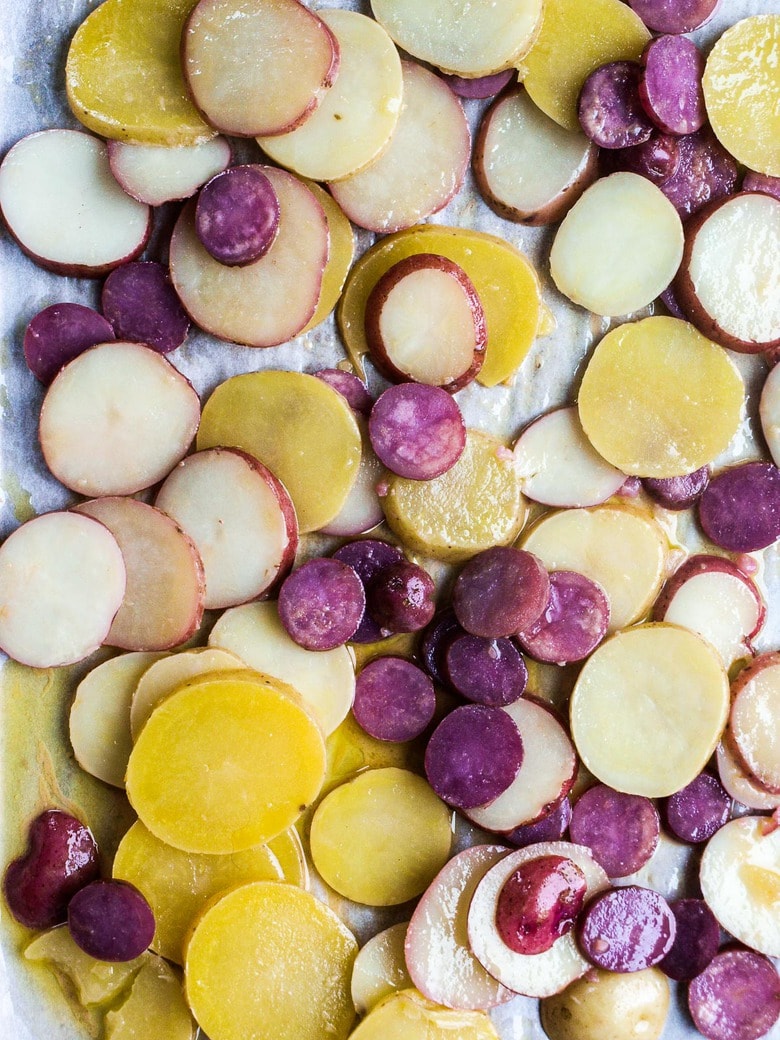 Then gently toss the potatoes in a bowl with the flavorful Dijon dressing and the fresh herbs.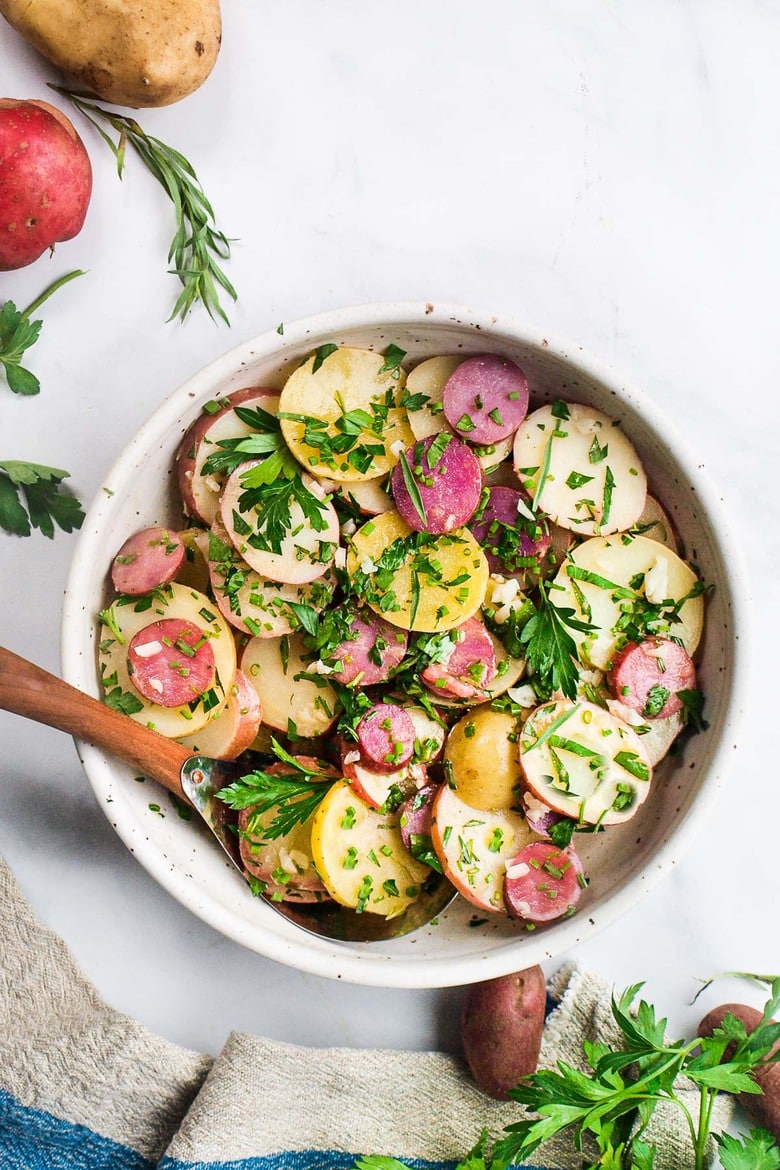 Serve immediately or at room temperature, or feel free to chill it! It will keep for 4 days in the fridge.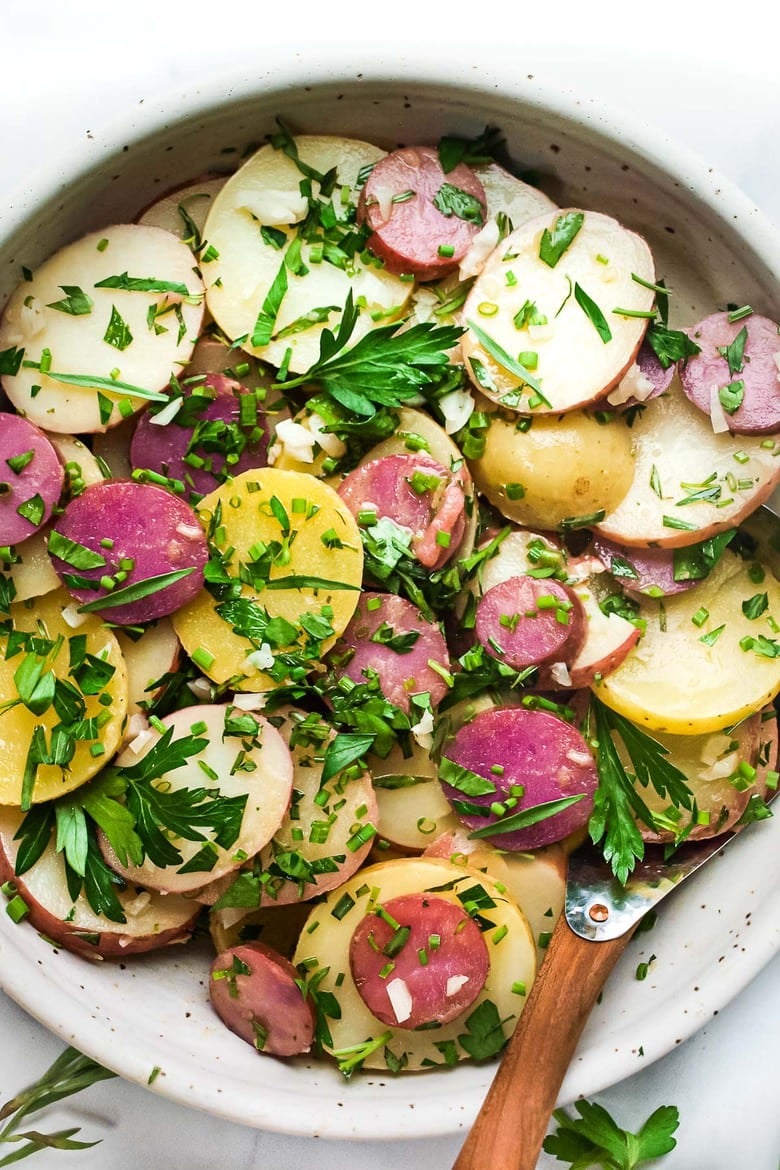 We know you will enjoy the fresh flavors of this French Potato Salad and won't miss the mayo one bit! Pair it with all your grilling this holiday weekend and please let us know what you think in the comments below.
Have a beautiful weekend!
2

 pounds fresh potatoes, sliced ¼-inch thick (little, thin-skinned potatoes work best here)

2 tablespoons

 of sea salt

2

 large garlic cloves
Dijon Vinaigrette:
1 tablespoon

 dijon mustard

¼ cup

 champagne vinegar or white wine vinegar

1/3 cup

 olive oil

¼ teaspoon

 black pepper
Fresh Herbs:
¼ cup

 fresh flat-leaf parsley, roughly chopped

2 tablespoons

 fresh tarragon, roughly chopped (or sub 

1/4 cup

 dill or basil ribbons)

2 tablespoons

 fresh chives (or sub green onions), minced
Instructions
Boil the Potatoes: Place the sliced potatoes in a large saucepan cover completely with cold water.Sprinkle in salt and bring to a boil.Add the 2 cloves of garlic, reduce heat and simmer 5 minutes or until potatoes are just tender.
Make the Vinaigrette: While potatoes are simmering, make the vinaigrette by whisking together dijon, oil, vinegar and pepper in a small bowl.Set aside.
Assemble: Drain potatoes and garlic.Place potatoes mostly single layer on a baking sheet to cool.Mince the cooked garlic and add to the vinaigrette.Drizzle the vinaigrette evenly over the warm potatoes.Let sit at room temperature for about 10-15 minutes.
Serve: Add to a serving bowl gently tossing with the chopped fresh herbs. Serve at room temp or refrigerate and chill.
Spring French Potato Salad
Ingredients
2 pounds

fresh potatoes,

sliced ¼-inch thick (little, thin-skinned potatoes work best here

2 tablespoons

of sea salt

2 large

garlic cloves
Dijon Vinaigrette:
1 tablespoon

dijon mustard

¼ cup

champagne vinegar or white wine vinegar

1/3 cup

olive oil

¼ teaspoon

black pepper
Fresh Herbs:
¼ cup

fresh flat-leaf parsley,

roughly chopped

2 tablespoons

fresh tarragon,

roughly chopped (or sub 1/4 cup dill or basil ribbons)

2 tablespoons

fresh chives (or sub green onions),

minced