These pumpkin pie Moscow mules are sweet, spicy and full of autumn flavor. Pumpkin butter and vanilla vodka make them taste like an intoxicating pie!
I recently looked around my pantry and found a can of pumpkin butter that was unopened last fall (still good!). Fortunately/unfortunately, I was experiencing some nauseous morning sickness at this time last year, so although the spirit is willing to buy pumpkin jam, the body is not willing to eat it. Holding that jar, I went to look for other flavors.
We also have a bottle of vanilla vodka and ginger beer (our staple food). So, I threw these three things, ice cubes, and some freshly squeezed lime juice into a copper cup (one or two steps in between), and voila! The pumpkin pie Moscow mule was born.
Vanilla vodka adds flavor and sweetness, ginger beer is spicy, and pumpkin butter is equal parts sweetness and spice. All these ingredients combined really make this cocktail taste like a drunk pumpkin pie
THESE MULES ARE SO.GOOD.
I haven't put such a cocktail together until now, I'm a little surprised! I mean, my love for Moscow mules is well documented. Seriously, look at the mule on this blog.
I will wait. And, if we are real, I'm kind of like a basic bitch when it comes to all things pumpkin. I am not ashamed to do a little self-reflection and admit myself.
It took a little time to look around my storage room and add a little seasonal inspiration to make this drink. So, although I am sorry that it took so long to reach this point, I think this cocktail is sufficient as an apology.
WHAT INGREDIENTS GO INTO THIS MULE?
Only a few ingredients are needed!
Vanilla vodka: I like to use Smirnoff or Pinnacle vanilla vodka. Basically, use something decent. But there is no need to get anything on the top shelf. Are there really many flavors of premium vodka?
Pumpkin Butter: This thing is like magic. Delicious, delicious magic. I found mine at Trader Joe's, but Google told me that there are other options. Click here to see where to find some.
Lime juice: Please squeeze it fresh.
Ginger beer: I like very spicy ginger beer, but you can use any one you like.
Decoration: Although these are not technically necessary, they make the drink look beautiful! I like to use a whole star anise and cinnamon sticks
HOW DO YOU MAKE A PUMPKIN PIE MOSCOW MULE?
You'll start by adding vanilla vodka, pumpkin butter, and lime juice to a cocktail shaker with ice. Shake shake shake until it's very cold. Strain the contents of the shaker into a copper mug with ice.
If you want to ensure that there are no little globs of pumpkin butter that didn't get incorporated in the shaker in your cocktail, you can double strain this drink. Basically, that means straining the drink out of your strainer and through a fine mesh strainer and into your glass.
Top everything with some spicy ginger beer and garnish with some beautiful star anise and a cinnamon stick!
IN SEARCH OF OTHER FALL MOSCOW MULE RECIPES?
Well well well. In that case, let me direct your attention this way…
While I truly believe that bourbon is a spirit that should be consumed year-round, I'll admit that it is especially warming and delightful when the weather turns a bit cooler. I made and shared this Bourbon Moscow Mule almost 3 years ago now. It's just as good today as it was then.
In case you want to amp up the Fall vibes even further, I also have a Maple Bourbon Moscow Mule for ya. It's made with smoked maple bourbon and real maple syrup for a little sweetness. *chef's kiss*
I'm also pretty stoked about my Caramel Apple Moscow Mules. They taste like (you guessed it) a big old caramel apple. But, you know, boozy and in a copper mug.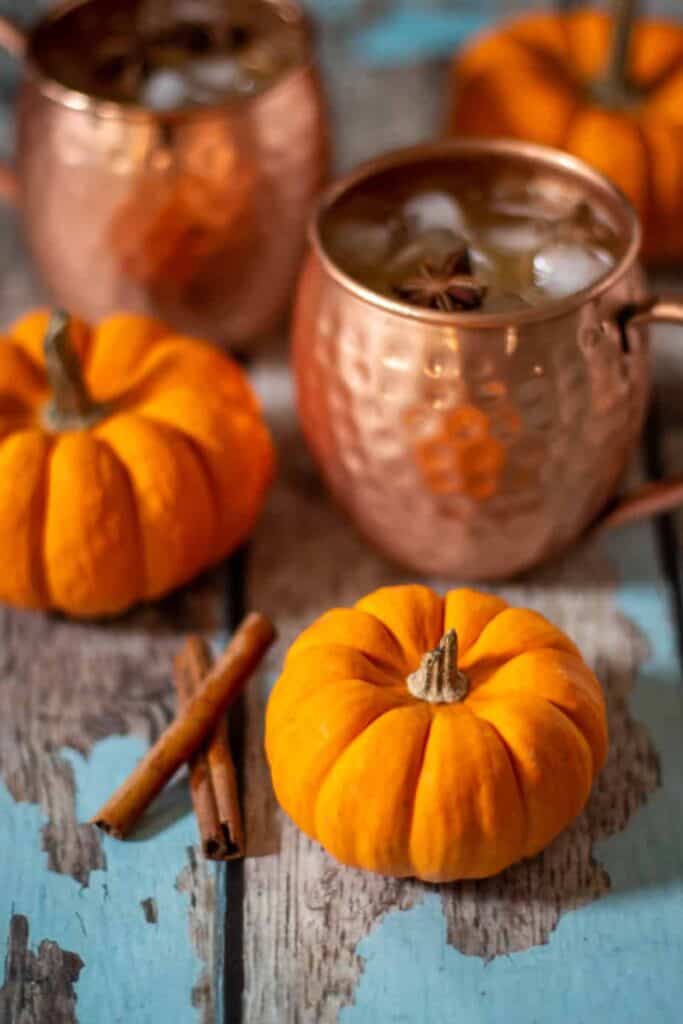 Pumpkin Pie Moscow Mule
Ingredients
1.5

oz

vanilla vodka

1

heaping tbsp pumpkin butter

½

lime juiced

4

oz

ginger beer

whole star anise and/or cinnamon stick,

for garnish (optional)
Instructions
Add the vanilla vodka, pumpkin butter, and lime juice to a cocktail shaker with ice. Shake until very cold and the pumpkin butter has been incorporated.

Strain into a copper mug with ice. Double strain if you want to avoid any clumps of pumpkin butter that didn't quite incorporate.

Top with ginger beer.

Garnish with a whole star anise and/or a cinnamon stick, if desired