I think my most favorite meal is afternoon tea even though it's a meal I rarely get a chance to indulge in these days.
On childhood visits to my grandparents house in the Philippines my grandmother always made sure everyone was home for "merienda", the Filipino version of afternoon tea.   The light meal was always served on her wrought iron kitchen table at 4:00 p.m.  I don't recall actually having tea, I think my grandfather did, but kids were served juice or hot chocolate.  I do have fond memories of small savory sandwiches which must be eaten before one could move on to the sweet treats.
These days afternoon tea for me is a decadent indulgence.  The only time we ever have a real tea complete with finger sandwiches, petite fours, and scones is when we're on vacation, a birthday, or Mother's Day.  I love it when my kids take me to tea on Mother's Day.
This year instead of taking mom out to an overcrowded restaurant why not host an elegant tea party?  It can be an intimate tea for 2 (mother/daughter) or an elegant tea party for all the moms (mom, grandmas, aunts, etc.).  Hosting a tea is one of the simplest events to host, it doesn't take too much prep time and best of all once the table is set the hostess can sit down and enjoy the meal with her guests.
Afternoon tea doesn't have to be extravagant, it just needs to have the basics served in pretty dishes and tea cups:  tea, finger sandwiches, small sweets, scones, jam, and clotted cream, and of course lemon, sugar, and cream for the tea.  Turn these basics into an elegant meal by serving the tea in pretty teapots and dainty china tea cups and setting out the finger food on tiered stands and cake plates.  (You don't have to invest in expensive cake or tiered stands, to learn how to make them click here!)
Here are a few ideas and recipes for your own tea party!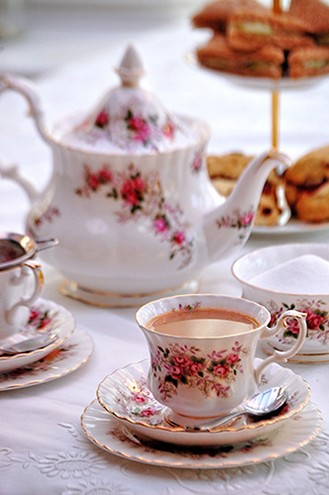 The Perfect Cup of Tea
Honest Cooking will show you how to make and serve the perfect cup of tea. They also have tips and ideas on hosting a very British Tea Party.  Click here to read more.[spacer height="20px" id="2″]
Dainty Finger Sandwiches
Traditional teas always seem to serve cucumber sandwiches; the cucumbers are briefly bathed in white vinegar to bring out the delicate flavor.  To make the Traditional British Cucumber sandwiches click here!
Or try this alternative from Chew Out Loud, Lemony Cucumber Cream Cheese Sandwiches.  [spacer height="-20px"]
Aside from cucumber sandwiches you can offer a variety of sandwiches; different fillings on different types of bread looks pretty and yummy.
These finger sandwiches from Southern Living are curried shrimp, ham salad, cucumber strawberry, and orange cranberry.  Click on the sandwich for the recipes from My Recipes.[spacer height="20px" id="2″]
Add some interest to your tea party by mixing in a couple of open face sandwiches.  These Salmon Cucumber sandwiches from Cin Cin, Let's Eat look too pretty to eat.  For recipe click here!
You can make many types of open face sandwiches using different fillings including egg salad, roast beef, or whatever your favorite fillings are.[spacer height="20px" id="2″]
Sweet Treats
Along with savory sandwiches sweet treats are also served at tea time.  You can include cookies, petite fours, truffles, and any of your favorite bite sized sweets.  These mini tarts from Salad in a Jar will make a great addition to your tea table.  For recipe click here![spacer height="20px" id="2″]
French macaroons add an elegant touch to a tea table.  You can purchase them the bakery, but that can be pretty pricey if you need plenty, or make them at home, I hear that's pretty challenging.  I buy the frozen ones from Trader Joe's, they're very good and cost only $4.99 for a box of 12.
To learn how to make French Macaroons from Juneberry Lane click here!  [spacer height="-20px"]
Scones!
Don't forget the scones, a tea party wouldn't be complete without them!  Here's the basic recipe from First Home Love Life, you can doll it up with dried fruit, chocolate chips, etc.
For recipe click here!
Remember to put out bowls of jam and clotted cream. Click here to learn how to make your own clotted cream from The View from the Great Island. [spacer height="-20px"]
You can also offer lemon curd along with jams.  Here's a recipe for homemade lemon curd  from
Love Bakes Good Cakes! [spacer height="-20px"]
Whatever you decide to serve remember that once the tea is
brewed most of your hard prep work is done, so sit down with your mom and enjoy a nice visit over a delicious tea!
Here's a FREE printable Banner & Party Kit from Oh Happy Day.  You can use it to spruce up your Mother's Day Tea!
Click here for printable!