Halloween is on Friday.  It's not to late to throw a Halloween party.  When my kids were young we used to throw a pre-trick-or-treat party, it was lots of fun!
Consider inviting friends over for pot luck, it makes it easier to feed excited kids.  And making one dish to share is easier than preparing the whole dinner yourself.
A few games before hitting the streets gets the evening off to a good start.  Then wind things down after trick-or-treating by sharing a good Halloween book or watching a scary movie.
Here are a few ideas to jump start your party.
Dinner Suggestions:
A spooky twist on pigs-in-blankets.  These Mummy Dogs from Raining Hot Coupons are easy to make and will surly be a hit.[spacer height="-100px" id="8″]
Jack-o-Lantern Sandwiches from Delish.com are really just layers of ham and cheese baked in ready made pie crust.  If you prefer you can use slicked turkey or other cold cuts instead of the ham.
Halloween twist on deviled eggs by Delicious as it Looks.
This spider web dip is a spooky variation of party favorite 7 Layer Dip from Momtastic.com.
Had to throw these adorable Frankenstein Marshmallow Pops from Just a Taste!  They are too cute!
This Pumpkin Fudge Eclair Cake from Inside Bru Crew Life looks super yummy!
Click here for recipe.
Witches brew is always a hit at our parties.  Any punch will do, it's the fog that makes this spooky fun.
DIY Dry Ice click here.
How to use dry ice in drinks safely click here.
For more Halloween dinner recipes click here!
For Homemade Halloween treat recipes click here!
Games: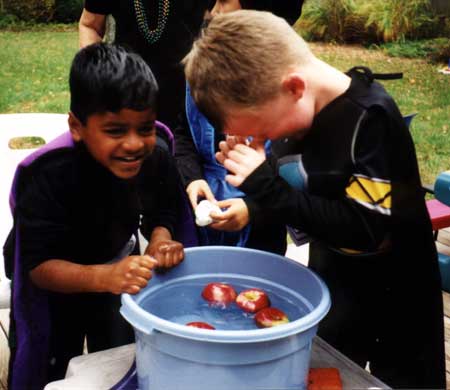 A fall party staple is bobbing for apples, if you don't want to get wet try tying donuts on strings and let the players chomp away.
Instead of pinning the tail on the donkey dis-assemble a jointed skeleton cut out and have the kids re-assembling it blind folded.
Instead of a pinata try this Pop Goes the Pumpkin from MarthaStewart.com.  The Pumpkin makes a cute decoration and the kids will love popping the balloons to find their surprise.
For some ghoulishly good fun have blind folded kids guess which body part they are touching.
Simply place assorted food in containers and have the blind folded child stick her hand in each container to feel around, she must guess the body part that is in each container.
Use peeled grapes for "eyes", cold cooked spaghetti for "hair",  etc.
When the fun and food are over gather your ghosts and goblins to trick-or-treat in the neighborhood.  By the end of the evening you will most likely have a group of over tired kids, wind them down with a quiet activity such as reading a Halloween book or watching a Halloween movie.