Halloween is fast approaching, decking out your home in ghostly glory is half the fun.  Who says you have to break your budget to have an awesome Halloween display.  With a little creativity, items you probably already have at home,  and a quick trip to the dollar store you too can have some ghoulish fun to fit any budget. Here are some awesome Halloween Decor made from dollar store finds!
Take a trip to the Dollar Store for some witches hats and other gruesome stuff for this Halloween Decor.
Floating witch's hats, like these from brooklynlimestone.com , creepy crawly spiders, spooky skeletons, and bloody hands are no problem.  With a bit of fishing line, some tape, black paper, twigs, paint, and some imagination your "haunted" house is sure to get raves from friends and family.
Here's another cheap Halloween Decor idea using dollar store spiders!
Have plastic spiders crawl on doors and walls.  To see more creepy ideas check out my blog about decorating with glow sticks.
Learn how to make this plastic tablecloth wreath from Mother's Niche.
I'm sure you'll find plastic table cloths at the dollar store to make this wreath part of your Halloween decor.  It will definitely set the mood!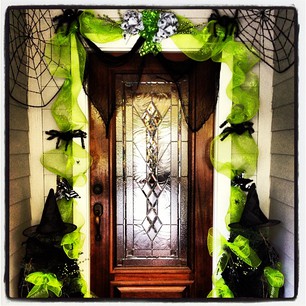 This Halloween Decor is a bit more elaborate than a wreath, but it's pretty awesome!
All this Halloween decor can be found at the dollar store!
You can make all this Halloween decor with just one trip to the dollar store!