The holidays are always fun for kids and adults of all ages.  There are so many fun activities to do!  One of the things our family loves to do during the holiday season is to make gingerbread houses.  We never seem to be satisfied with just one!
Gingerbread house and cookie decorating is also a great holiday party activity, both kids and adults love it!  So if you have a birthday child in the month of December, a family or company holiday party, or just want an excuse to throw a party, why not throw a Gingerbread House & Cookie Decorating Party!
It's easy and budget friendly.  The best part is the guests make their own party favors!  Here are some tips for planning and hosting your Gingerbread House Making Party.
1.  Keep your guest list on the small side, preferably have only as many guests as you can seat on your dining table.  If you're hosting a larger party you will have to set up tables for guests to use.
2.  Set up your tables with pre-made gingerbread houses for kids' parties.  You can use graham crackers, pretzels, or home made gingerbread to make the houses.  For recipes and instructions on how to make gingerbread houses and icing 
click here
.  Be sure all the houses are the same, you want to avoid bickering.  Set the houses on cake boards, aluminum pans, or foil wrapped cardboard to make it easier for guests to take home.
If you're hosting adults you can lay out pre-made gingerbread parts, or boxes of graham crackers or pretzels, and icing for guests to build their own house.  Alternatively you can provide a store bought kit for each guest.  Provide a base for each house.
3.  Set out all the decorations:  Candies, cookies, cones, etc.  Keep them neat and organized in several muffin tins or you can give each child their own set of decorations by putting them in paper cupcake cups.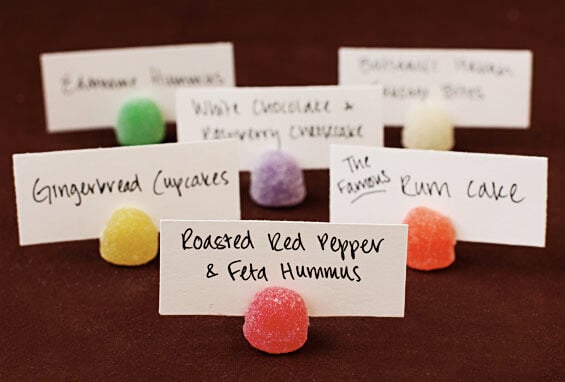 4.  Place cards are a nice touch and avoids seating arguments.  Here's a cute idea from Gimme Some Oven using gumdrops as place card holders. It's simple and very budget friendly, just print each guest's name on the cards.
5.  Before you begin the activity it's a good idea to serve a healthy meal or snack.  This is crucial for kids' parties, you know that many of the candies will end up in their tummies and not on the gingerbread house.  To avoid sore tummies and a major sugar rush be sure kids eat something first. Finger sandwiches, veggies with dip, and even hot soups would make a hearty meal or snack on a cold winter day.
 6.  You may want to have a contest and guests can judge each other's creations and award prizes for different categories:  Prettiest, Most Creative, Most Original, etc.  You can make ribbons to pin on the winning houses.  This may be too competitive for younger kids unless each child gets a ribbon.
7.  Setting up a beverage bar would be a nice touch.  A hot cocoa bar for kids or a coffee or tea bar for adults.  Whichever you decide keep it simple, remember the main event is the Gingerbread House!
I a family member or guest has egg, nut and dairy allergies you can easily bake Vegan Gingerbread Cookies.  I make a large batch of Vegan Gingerbread Cookies for my grandson Jett, but everyone in the family loves them.  If you don't tell anyone they're vegan no one will ever know!  Yes they're take yummy!  Best of all you don't have to bake 2 different types of cookies nor do you have to separate the non-vegan ones from the vegan ones.  So much easier and less confusing!
Here's my recipe for Vegan Gingerbread Cookies
Ingredients:
1/2 Cup Earth Balance Vegan Butter or Shed's Spread, softened
3/4 Cup Packed Dark Brown Sugar
1/3 Cup Molasses
1 Tbs Ground Flaxseed dissolved in 3 Tbs water (let flaxseed absorb water until it's viscous – this is your egg substitutes)
2 2/3 Cups All Purpose Flour
1/2 Tsp Salt
1 Tsp Cinnamon
1/2 Tsp Ground Nutmeg
1/2 Tsp Ground Allspice
Frostings, sprinkles, Royal Icing (if making parts for gingerbread house, royal icing is your "glue")
Directions:
Using the dough of your mixer cream Vegan Butter and brown sugar until fluffy.
Beat in molasses and flaxseed mixture
In a separate bowl mix together all dry ingredients
Gradually beat dry mixture into vegan butter mixture until it forms dough
Divide dough in half and shape each half into a disk
Wrap each disk in plastic wrap and refrigerate about 30 minutes
Pre-heat oven to 350°
Remove one disk from fridge and smooth out plastic wrap – you will roll dough on the wrap to avoid using flour which makes dough to dry
Roll dough to 1/8″ thickness and use cookie cutters to cut out shapes you want.  If using cookies for a gingerbread house cut 4 equal sized rectangles for the walls and 2 equal sized rectangles a bit smaller than the first four for the roof.
I used gingerbread men and women cutters as well as a train cutter.  But you can use whatever you want.
Place cookies on cookie sheet covered with a silicone baking mat or parchment paper.
Bake 8-10 minutes or until edges are firm
Remove to cooking racks and cool completely
Frost and decorate as you want