Saucy one pan French Onion Chicken with juicy pan-seared chicken smothered in caramelized onion gravy and three kinds of melty Italian cheese. This 30 minute meal will be a staple in your house!
Sometimes a recipe needs refinement to get to the point of putting it in my recipe book, a little altering and adjustment here and there. Sometimes I test out a recipe and it comes out exactly as I'd hoped. No tweaks needed, no surprising flavors or textures, just spot-on recipe perfection.
And then there are times when I make a dish and with just one bite I am completely wowed and all of my expectations are exceeded. This is one of those times! I fully expected this French onion chicken would be delicious. I didn't think for a minute I'd be fixing this for dinner three times in one week and reheating leftovers for lunch on the in-between days because it was that good.
Sometimes a home-run recipe just sneaks up on you like that.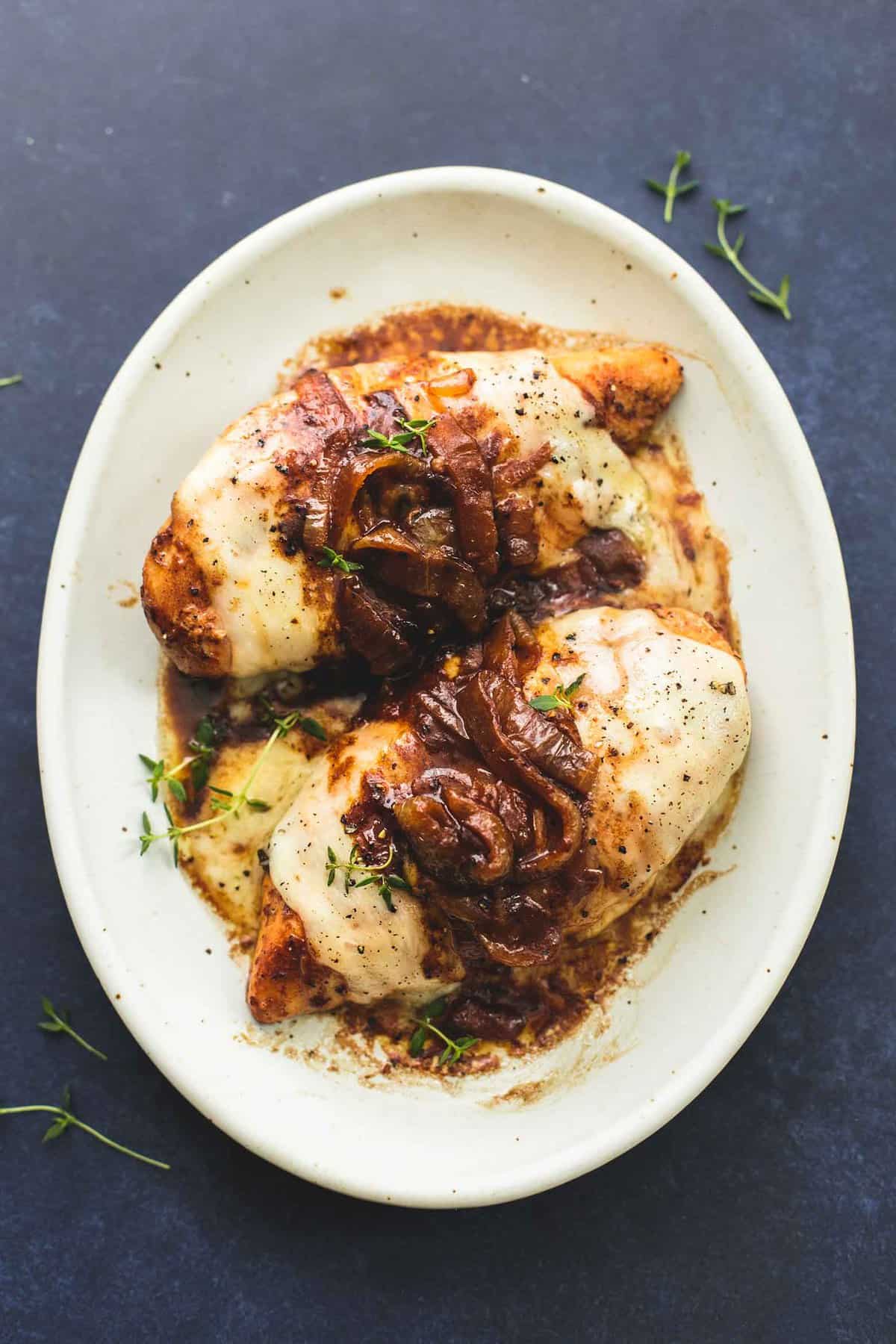 Honest to goodness, this French onion chicken thing we've got going on here is straight-up life changing goodness.  All those classic flavors of French onion soup, in a one pan skillet meal the whole family will beg you to fix again and again. And the recipe is so straight forward and simple you won't mind one bit.
You start out by sauteing thinly sliced yellow onions in a bit of butter and beef broth til browned and very tender, just like you would with classic French onion soup. Then you move those onions over to a separate dish to keep warm while you brown the chicken in the same pan.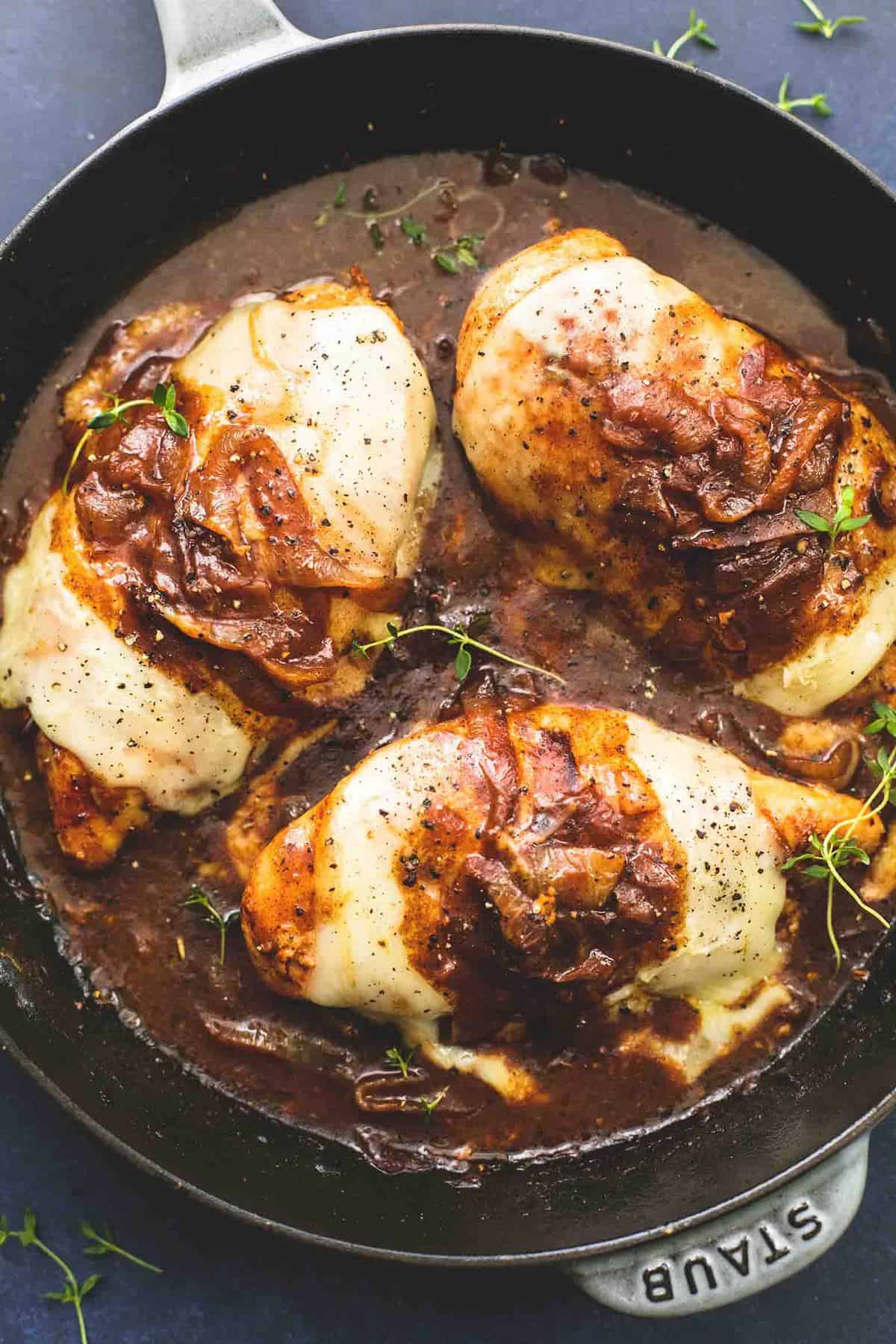 Move the onions back to the pan and add flour and beef broth to make the most delicious caramelized onion gravy EVERRRRR and then top your chicken with three kinds of Italian cheese. Bake for about 10 minutes and viola! The sauciest, tastiest 30-ish minute chicken dish you've ever made.
This is Fall comfort food at its finest. And I just want to point out that I even though this dish is inspired by soup, it is not a soup, unlike the past four recipes I've posted which are all actual real live soup. #soupbsessed #sorrynotsorry #longlivesoupseason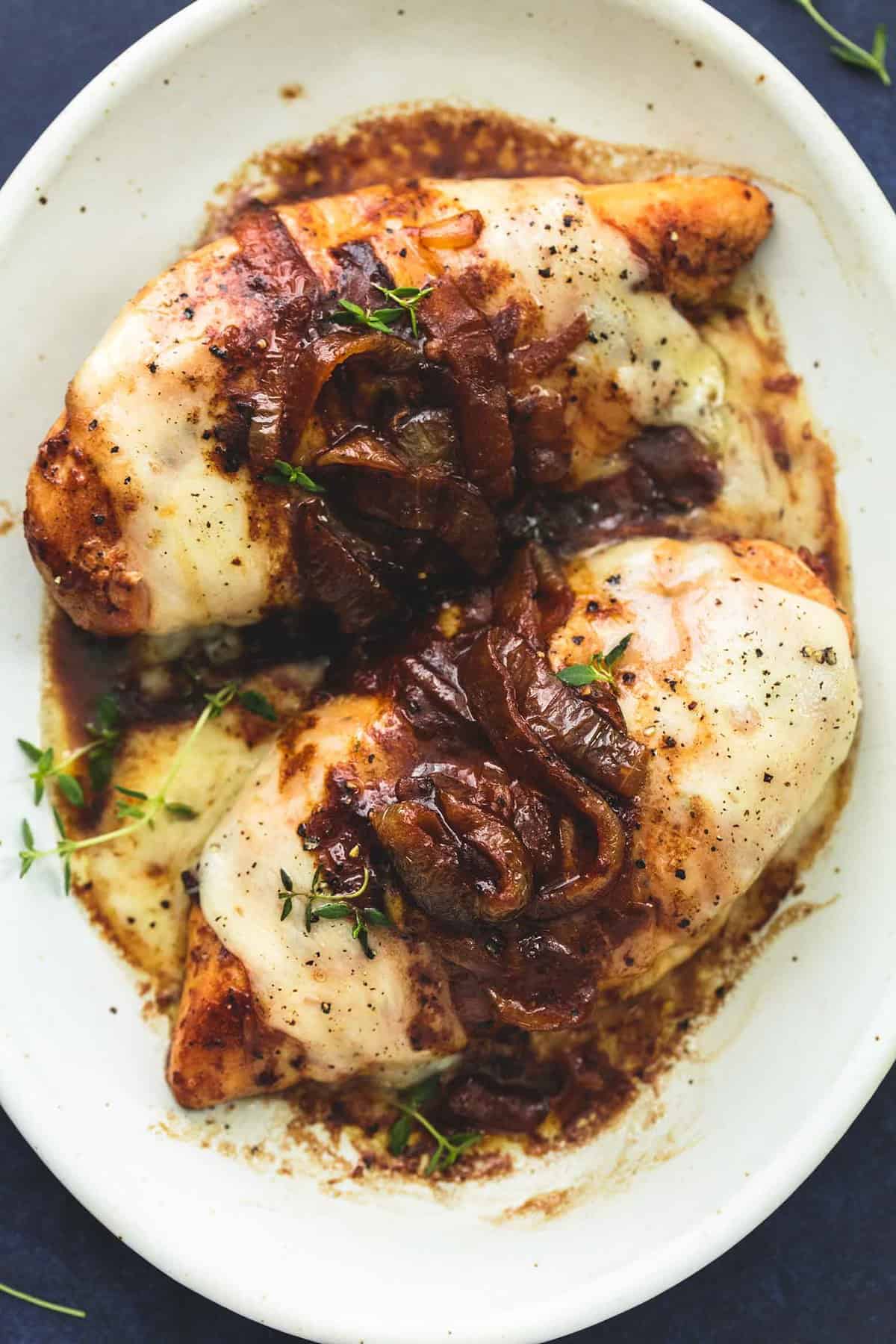 Ingredients
2 medium yellow onions – thinly sliced into rings
3 tablespoons butter
1 cup + 3 tablespoons beef broth – divided
4 boneless skinless chicken breasts – pounded to even thickness
1 tablespoon oil
salt and pepper to taste
1 teaspoon Italian blend herbs/Italian seasoning – (OR ¼ teaspoon dried basil + ¼ teaspoon dried thyme + ½ teaspoon dried oregano)
2 tablespoons flour
4 slices provolone cheese
4 slices swiss cheese
¾ cup parmesan cheese
fresh thyme or parsley and cracked black pepper for topping – (optional)
Instructions
Preheat oven to bake at 400 degrees OR broil on low. In a large oven-safe skillet (see note) over medium-high heat, melt butter. Add onions and 3 tablespoons beef broth and saute onions for 3-4 minutes until translucent. Continue to cook, stirring occasionally so the onions don't burn, for about 15 minutes longer until browned and very tender. Use tongs or a fork to transfer to a bowl and cover to keep warm.

While onions are cooking, prepare the chicken by drizzling with oil, then seasoning with salt and pepper (to taste) and Italian herbs. Once onions have finished cooking and are removed from the pan, cook chicken for 4-5 minutes on each side (don't clean out the pan between the onions and chicken) until browned on both sides. (Chicken may not be fully cooked through yet, that is okay).

Transfer chicken to a plate and cover to keep warm and return the onions to the pan. Sprinkle flour over the onions and stir for 1 minute over medium-high heat. Add beef broth and continue to cook, stirring throughout, until mixture comes to a boil. Season with salt and pepper to taste. Return chicken to pan and spoon some of the sauce over each piece of chicken.

Top chicken with one slice of provolone each, then one slice of swiss, then 1/4 of the parmesan cheese. Transfer skillet to your preheated oven and cook for about 10 minutes until chicken is cooked through completely and cheeses are melted.

Spoon some of the onions and gravy over the top of the chicken, garnish with thyme or parsley and cracked black pepper, and serve.
Notes
If you don't have a cast iron skillet, any other oven-safe skillet will do OR you can transfer everything to a casserole dish or baking pan for the baking portion of the recipe.
Nutrition
Calories: 411 kcal, Carbohydrates: 11 g, Protein: 42 g, Fat: 22 g, Saturated Fat: 11 g, Trans Fat: 1 g, Cholesterol: 115 mg, Sodium: 868 mg, Potassium: 607 mg, Fiber: 1 g, Sugar: 3 g, Vitamin A: 508 IU, Vitamin C: 5 mg, Calcium: 536 mg, Iron: 1 mg