Halloween doesn't have to be scary. It can be sweet and cute like our Easy Paper Witch Craft. I love her rosy cheeks, jeweled wart on the end of her nose and glittery black hat.
This craft is all about using and being creative with the materials you have available at home or laying around the class room.
Our witch is a mixed media project consisting of yarn, newspaper, stock card, patterned paper and glitter, and is perfectly open-ended enough for your kids to create their own spin.
If you don't have yarn or fancy paper, perhaps the hair could be replaced with your Arty Crafty Kids handprint.
The newspaper could be painted with watercolours or not, and maybe your kids would like to plat the hair of their witch?
With so many options, I wonder what direction your kids will take…
Easy Paper Witch Craft: Materials
Newsaper
Yarn
Buttons
Googly Eyes
White Card Stock
Black Card Stock
Watercolours paint
Easy Paper Witch Craft: Tutorial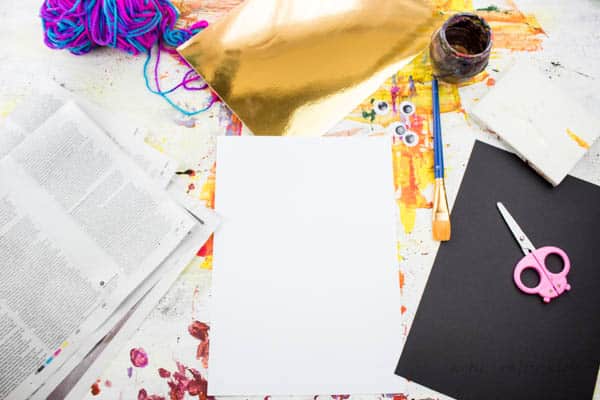 Step 1: Gather your materials
White card stock to stick your witch to and black card stock for the hat, and then whatever materials your Arty Crafty Kids choose to use for the head, eyes, nose and hair!
Step 2: Start with the witches head
Step 3: Add the eyes
Add a pair of googly eyes, or round white paper circles and buttons could be a good alternative to googly eyes!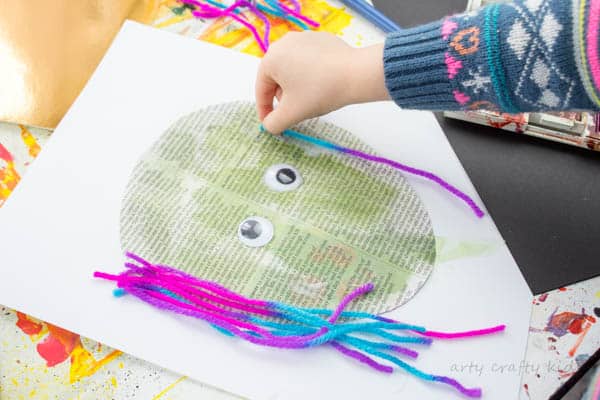 Step 4: And now her hair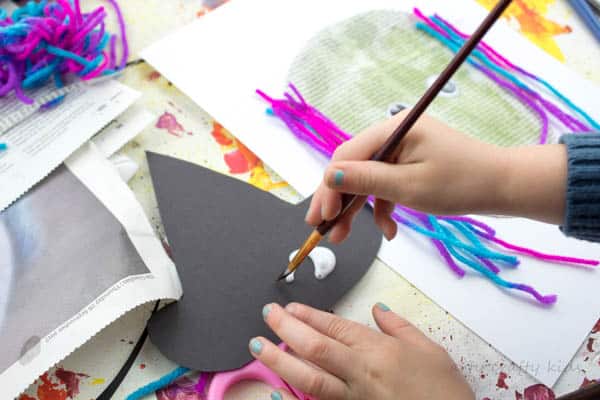 Step 5: Your paper witch is really coming together now!
Cut out a witches hat from black stock card. We've gone with the shape of the traditional witches pointy hat!
Step 6: Apply glue to the hat and stick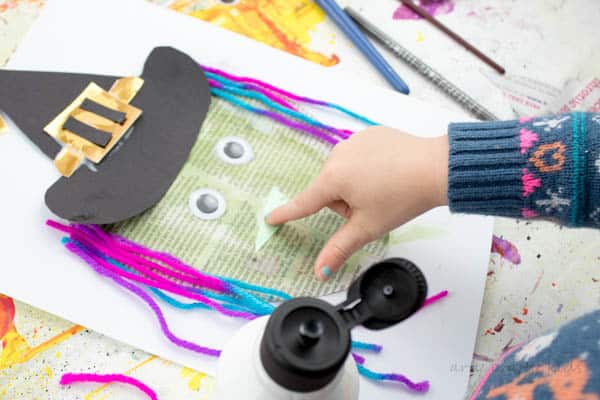 Step 7: Nearly finished! Stick a nose upon your witches face
Add a nose using colored paper or card you have left over.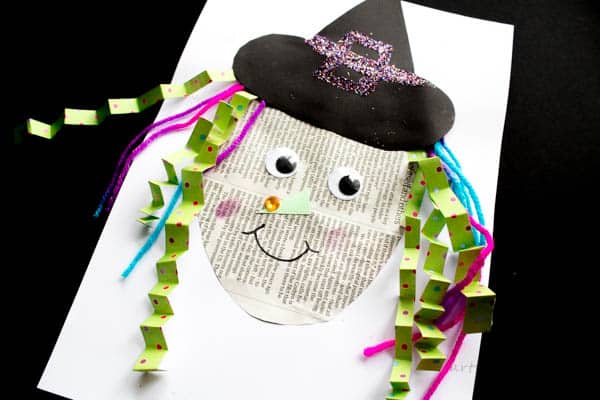 Step 8: A witch just isn't complete without a wart on her nose!
I hope your Arty Crafty Kids have enjoyed our Easy Paper Witch Craft!