I recently saw some gorgeous Thanksgiving Centerpieces  online selling for $100 or more.  Most of them were made with mini pumpkins, dried leaves, nuts, berries, and other natural materials.  I love dressing up my holiday tables with beautiful centerpieces, but there's no way I'm spending that much money on one.  Specially not when I know I can make something similar for much less.
With Thanksgiving just 3 days away  we're all busy preparing that holiday meal, but have you given any thought to how you're going to set your Thanksgiving table?  At our house we always have so much food that I end up setting up a Thanksgiving buffet on my kitchen peninsula so that we can actually eat on the dining table.  I like to place Thanksgiving Centerpieces on both the dining table and on the buffet, it makes everything look so much more festive.
With a bit of ingenuity and supplies you may already have at home I'm sure you can make some beautiful Thanksgiving centerpieces to grace your holiday tables.
Think about all the possibilities!  What does autumn call to mind?  Think rich harvest colors; pumpkins, nuts, seeds, and all the bounties of the earth. Making a centerpiece or creating a tablescape may involve as little as digging thru your pantry, clipping blooms from your garden, and a quick trip to the dollar store.
Here are some ideas to inspire you!   And don't forget the Kids' table, it needs to be fun and pretty too!
For these Thanksgiving centerpieces I used foam pumpkins I got from the post-Halloween clearance at Walmart and promotional glasses I had at home.  I added dried leaves and corn I got from the supermarket, some ribbon and a happy scarecrow. Learn how here![spacer height="20px" id="2″]
Laterns are always popular and very versatile.  Learn how to make this Fall Centerpiece from Sweet Something Designs.
It would look great on a mantel or in your foyer too![spacer height="20px" id="2″]
Acorn filled Mason Jar candle holders, how simple and inexpensive is that! You can probably find a bunch of acorns in your backyard!
Learn how to make this on Domestocrat.net.[spacer height="20px" id="2″]
A quick trip to the dollar store and the farmer's market for supplies, and a glue gun is basically all you need to make this pumpkin centerpiece by Shanty 2 Chic.[spacer height="20px" id="2″]
Another dollar store project is The Craftinomicon's Harvest Centerpiece.[spacer height="20px" id="2″]
These beer bottle candle holders by Big City Little Joys will give you a reason to drink more beer.  Just glue on some twine, paint on the letter, and add candles and done!  How fun and easy is that?[spacer height="20px" id="2″]
Calm Cradle nestles votives in a glass filled with coffee beans, ties on some twine and places everything in an old pan.  Simple!  You may not need to leave home to make this one.[spacer height="20px" id="2″]
Shelterness arranges nuts on assorted stands.  Easy!  You can even make your own stands!  To learn how to make serving stands click here! [spacer height="20px" id="2″]
For more Thanksgiving centerpiece ideas from Shelterness click here!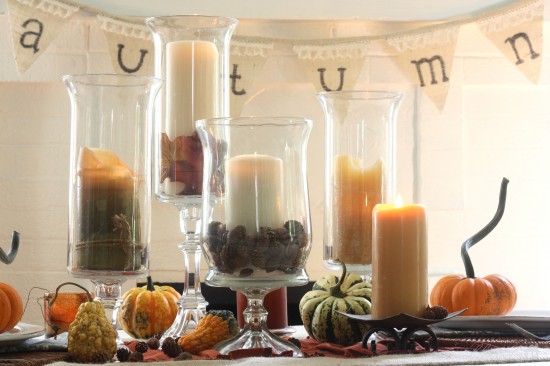 My Blessed Life will show you how to DIY Hurricane Vases for this easy centerpiece.  Looks pricey but really uses dollar store supplies![spacer height="20px" id="2″]
This centerpiece by At the Picket Fence uses corn kernels, beans, and fruit to create this simple tablescape.[spacer height="20px" id="2″]
Cranberries in over sized Brandy snifters by Shelterness.
For a healthier alternative try these edible centerpieces from Top Inspired.
[spacer height="-100px" id="8″]