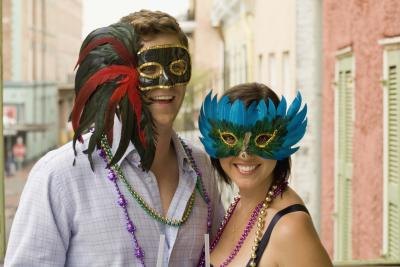 (Jupiterimages/Brand X Pictures/Getty Images)
Mardi Gras, or Fat Tuesday, is right around the corner, it's on February 17, 2015.  Mardi Gras is celebrated the Tuesday before Ash Wednesday.  It marks the last day that folks can indulge in rich food and drink before the fasting and abstinence begins for the Lenten season which runs from Ash Wednesday to Easter Sunday.
 In some places such as Venice and Rio de Janeiro the celebration called Carnivale or Carnival, begins in early February culminating on Fat Tuesday.  It's a time for eating, drinking, and all out partying until the sun rises on Ash Wednesday.
 A big part of Mardi Gras celebrations are masks.  The tradition in Venice dates back to the Renaissance when artisans created elaborate masks and costumes for the wealthy, it was outlawed in the late 1700s and slowly made a comeback in the late 1900s.
Today there are many shops around the city specializing in reviving the almost forgotten craft.  Their handcrafted masks are works of art carrying a hefty price tag.
For your Mardi Gras celebration you need not fly to Venice to purchase a mask.  Here's a round up of DIY masks you can make.  There are many lovely ideas and many are easy and inexpensive to make.  You may want to make one or two even if you're not having a Mardi Gras event, you can always use them as decor around your home.
Here's a super easy video tutorial help you out.  It uses supplies that you probably already have, cardboard, glue stick, construction paper, craft paint, etc.  The kids will love making them!