You guys have to thank for this onslaught of Thanksgiving DIYs. It's her favorite holiday, and in an effort to make sure she never leave me, I'm continuing to embrace the holiday, and even got her in on the act! (Ok! I'll admit it. I'm really having fun with these Thanksgiving DIYs!) I may not be the biggest fan of Thanksgiving dinner (I KNOW! I'm Un-American. Judge away.), but I can certainly still stuff a turkey like it's nobody's business. Except my turkey? It's stuffed with CONFETTI! Would this not be the BEST centerpiece for a Turkey Day kid's table!? I even made some turkey leg confetti poppers to go with. Because that's how I roll.
They're kind of like turkey leg maracas! Ha! Until you tear 'em open and throw confetti everywhere. You're welcome.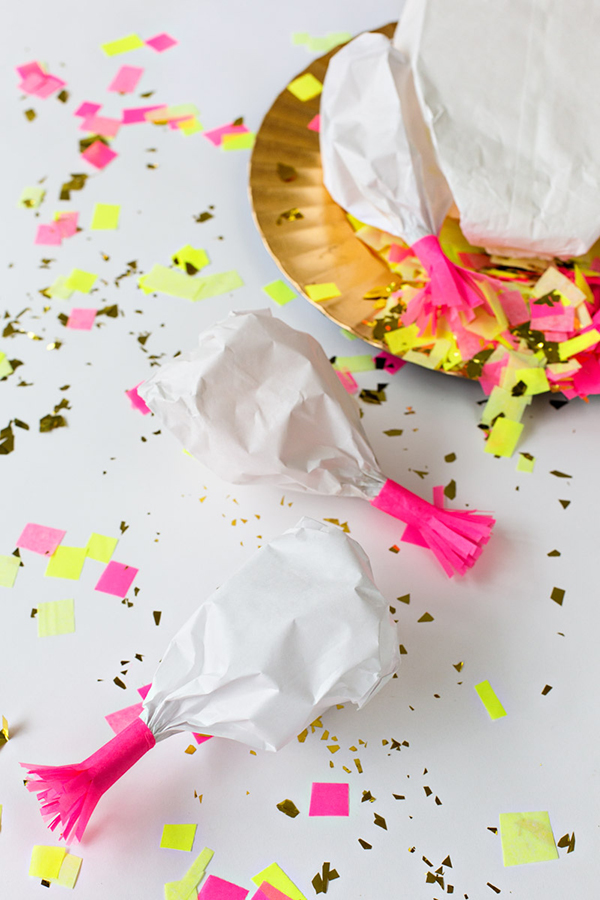 Now, let's stuff a Turkey… Studio DIY style.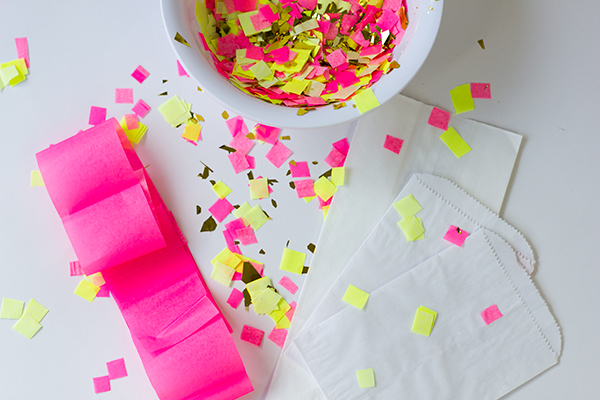 White Lunch Bag
White Treat Bags (Two for a full turkey, or one for each confetti popper.)
Confetti (I cut my neon confetti from tissue paper, and sprinkled in some gold foil confetti too!)
Tissue Paper
Scissors
Hot Glue and/or Glue Dots
I was inspired by this AMAZING giant paper bag turkey for my mini version. To start, open up one lunch bag and then put a second lunch bag inside of it and open that too (giving you two layers). You'll want to squash down the corners of the bag, and can do so by putting one hand inside the bag and pressing the other (on the outside) against it. Then, fill your bag up with confetti! (LOTS of confetti.)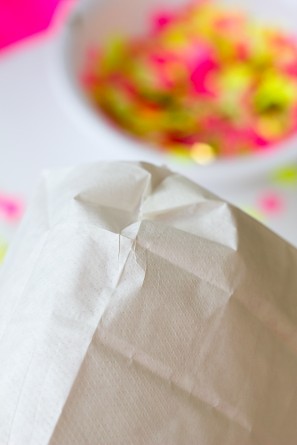 This part can be a little tricky, but you can do it! Roll under the opening of your stuffed lunch bag and carefully fold in the bottom-sides, forming an angle on each side of the rolled edge. Now, set that aside while you work on your turkey legs. For those, use the same method to squash down both corners of each treat bag.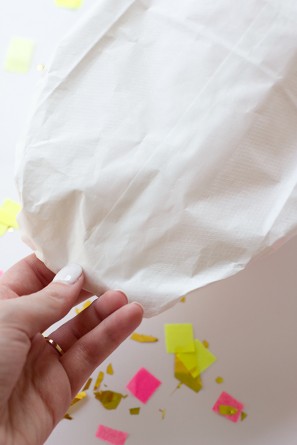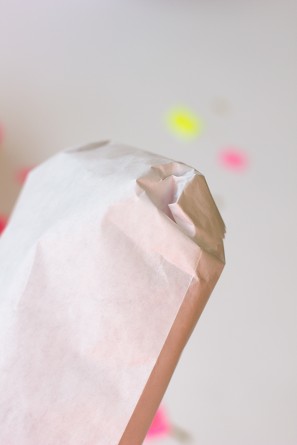 Fill 'em up with confetti! Then twist the bottom portion closed.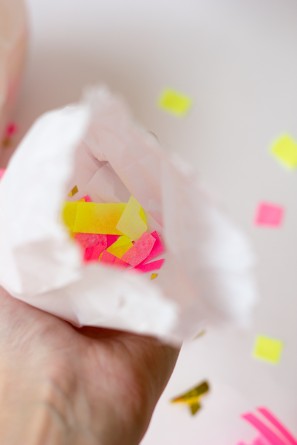 Take a 2-3″ strip tissue paper and fringe one side of it. Adhere one end to the twisted part of your turkey leg, than wrap it round and round before finally securing it with another glue dot.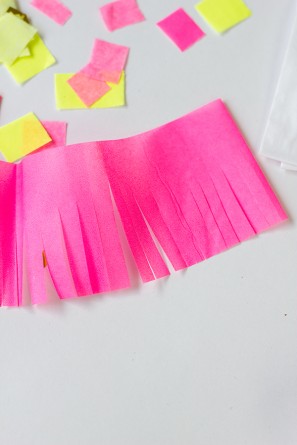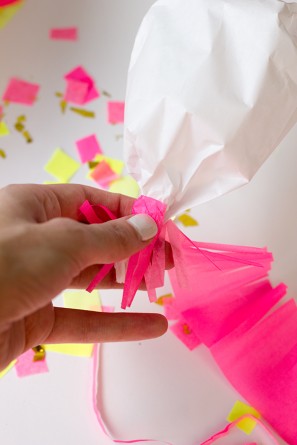 Tada! Your final step to complete your funky turkey is to hot glue (or glue dot!) the sides together. Each leg should fit right along the angled edge of your stuffed lunch bag.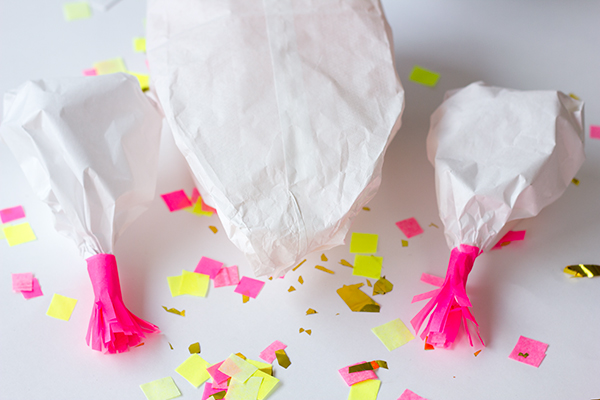 BAM! That turkey is stuffed and ready to go! Set it up in the center of the kids table and wait for the ooohs and aahhhs!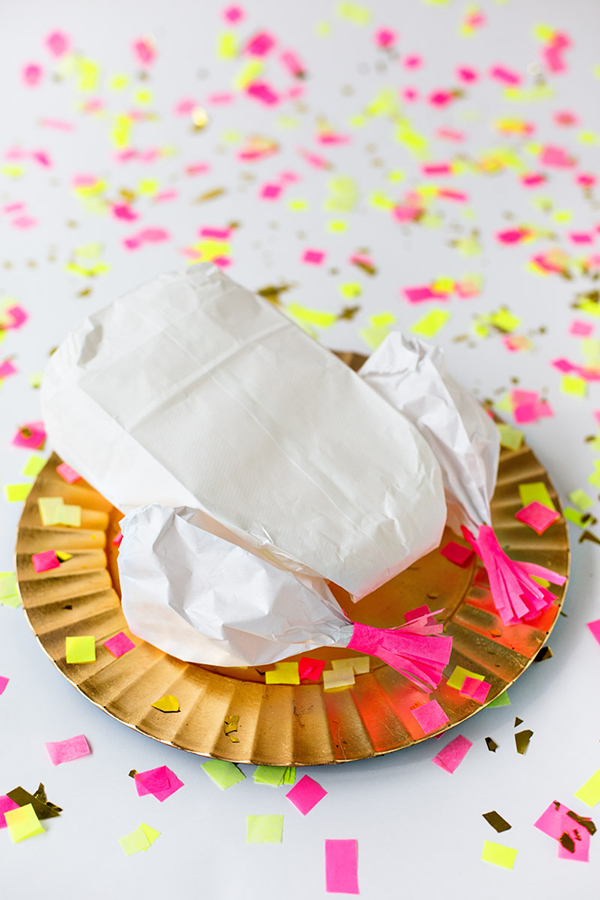 If you make some extra turkey legs, set them at each place setting for even more awesome fun! Then let your guests go bananas tearing them open and raining confetti everywhere. Perhaps reserve this for after dinner, unless you enjoy your real stuffing with a side of confetti too.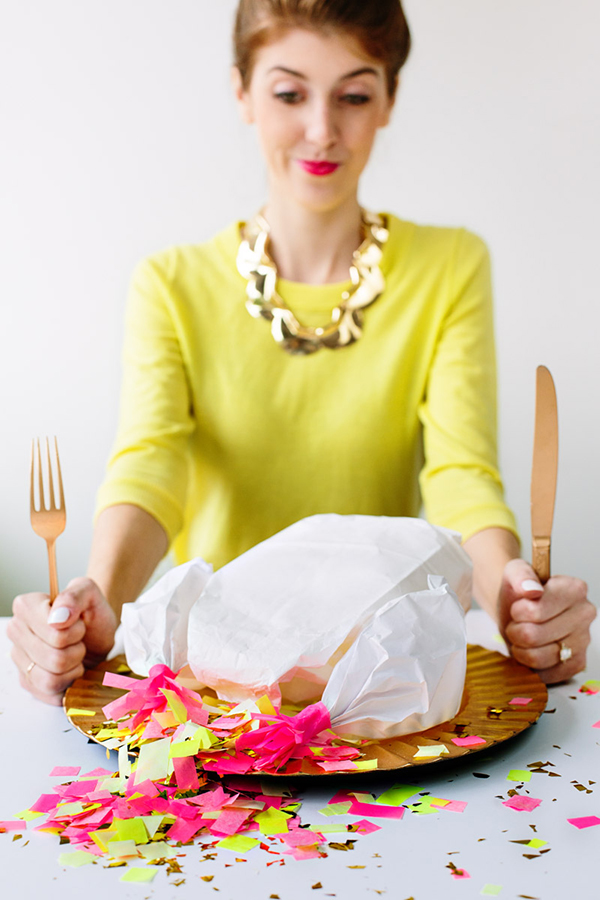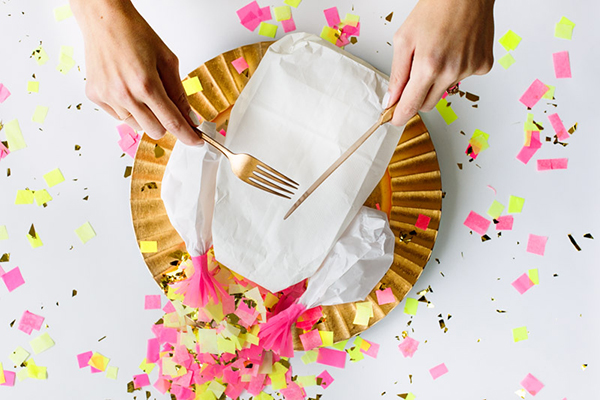 And now we will sacrifice this turkey in the name of neon confetti. Let's eat party!!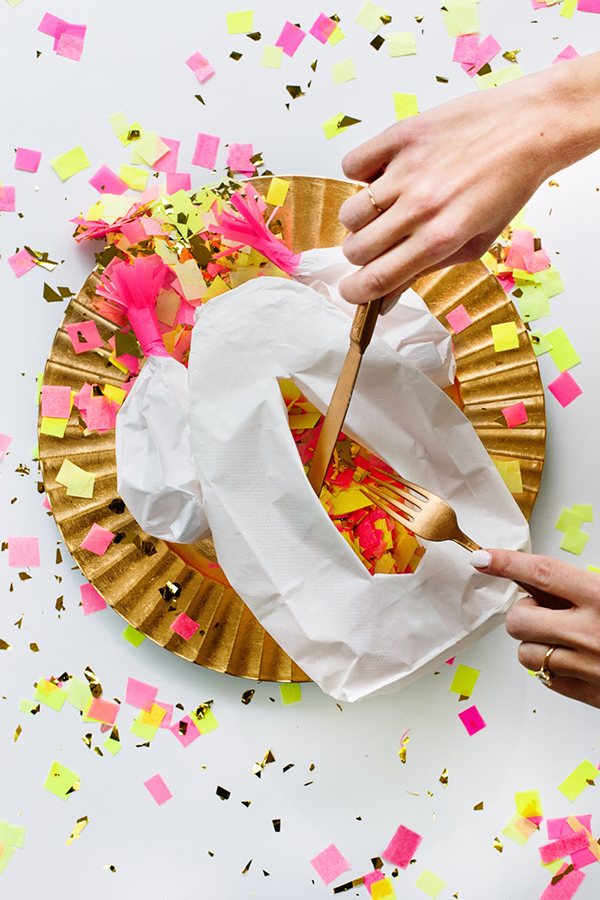 Step by Step Photos by Studio DIY, All Other Photos by Mary Costa Photography
This will be the first year that Jeff and I won't be spending Thanksgiving with one of our families. I'm not sure I have the guts to actually make a real turkey (I usually am responsible for dessert. Surprised?), so this may be the only turkey Jeff gets this year. Hmm… I wonder if he'll still marry me? =)
For more Thanksgiving DIYs, head on over here!