If you are out looking for a Chewbacca craft, you won't find a ton, at least not yet. But as far as characters from Star Wars goes, Chewbacca and R2-D2 seem to be the fan favorites. When I was coming up with the list of ideas for my Star Wars craft book, Chewbacca was on there several times. My favorite Wookiee craft from the book was this Paint Stick Chewbacca; I just think he turned out so cute!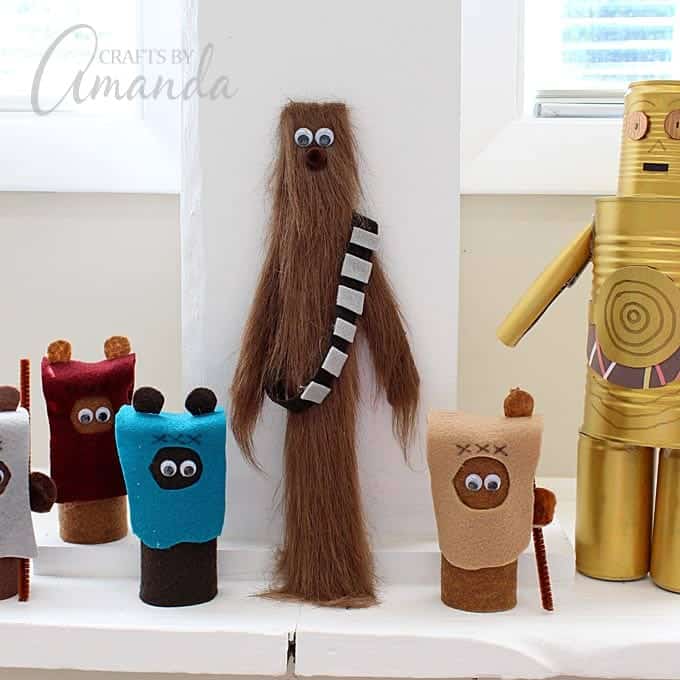 Chewbacca Craft from a Paint Stick
I'll admit that I have a few favorite projects from this book. This Chewbacca craft and the R2-D2 project I posted last month are right at the top of the list. But I also love the C3PO project from the cover (also pictured above) and the cute little Ewoks as well. This was my favorite book so far. I had so much fun making the crafts in this book and I seriously cannot wait for the new movie in December! In fact, if you haven't heard about it yet, September 4th has been dubbed #ForceFriday, gearing up excitement for the December release!
Check out our featured craft video!

Mess Alert! I am not going to lie, this was a super messy craft because of the faux fur. It's fine when you buy it, but as soon as you start cutting it it's just like being at the hair salon, only without the plastic cover they put on you. Little hairs. Everywhere. So if you want to adapt your Chewbacca craft and use felt instead, you won't get that furry feel, but he'll still be cute and you won't have to vacuum.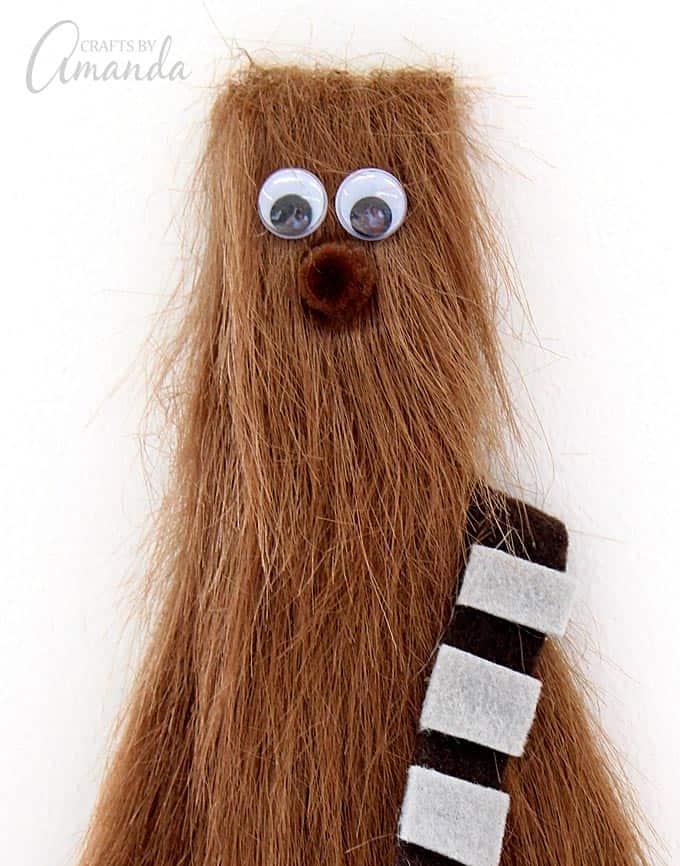 But seriously. How could you resist that face??
Fun Star Wars Facts
Chewbacca is a Wookiee; yes, there are two e's and the species name is capitalized!
Did you know that George Lucas' inspiration for the Wookiee was actually his dog, Indiana? Yes, Indiana was his name, which was also used as inspiration in Indiana Jones. George Lucas is quoted as saying "He was the prototype for the Wookiee. He always sat beside me in the car. He was big, a big bear of a dog." 
Wookiees come from the planet Kashyyyk, average almost 7 feet tall, are comfortable in most climates, are excellent marksmen, and live for several hundred years!
While Wookiees speak a language of their own (called Shyriiwook), they are capable of understanding humans. They are unable to speak our language due to the structure of their vocal cords.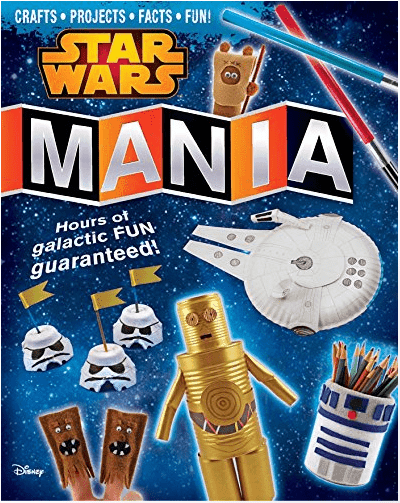 Now that you know more about Chewbacca and the Wookiee race, I know you'll want to make one of your own. So let's get started!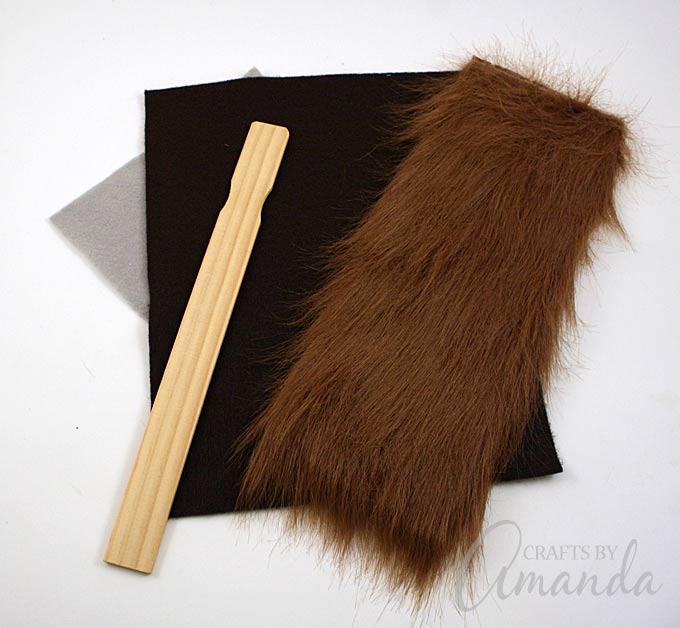 For this Chewbacca craft you will need:
Paint stir stick
Brown faux fur
Dark brown felt
Gray felt
Medium brown pom pom
2 googly eyes
Hot glue gun
Scissors
How to make it:
A printable version of these instructions is available at the end of this post.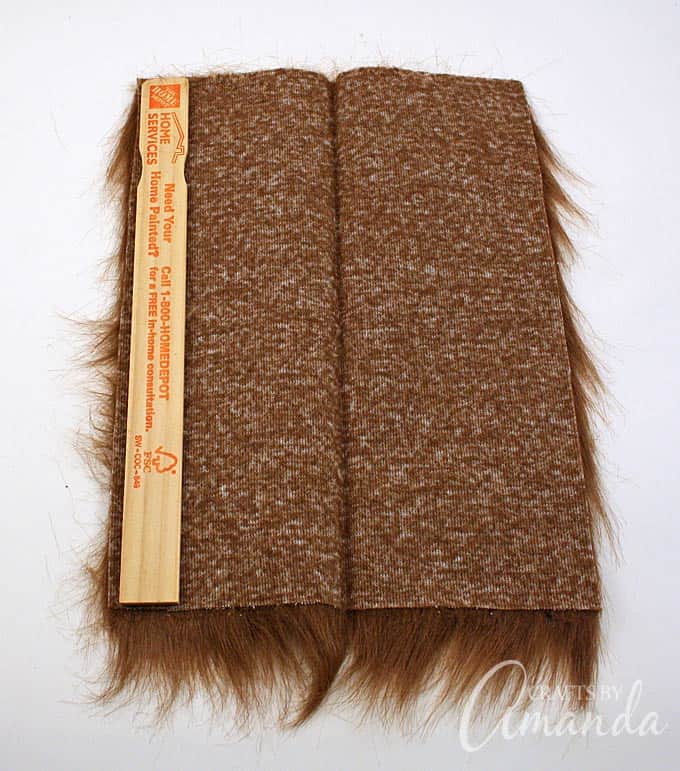 Cover the paint stick with faux fur. It's easiest to turn the fur upside down and glue the stick to the back, then glue, fold and trim.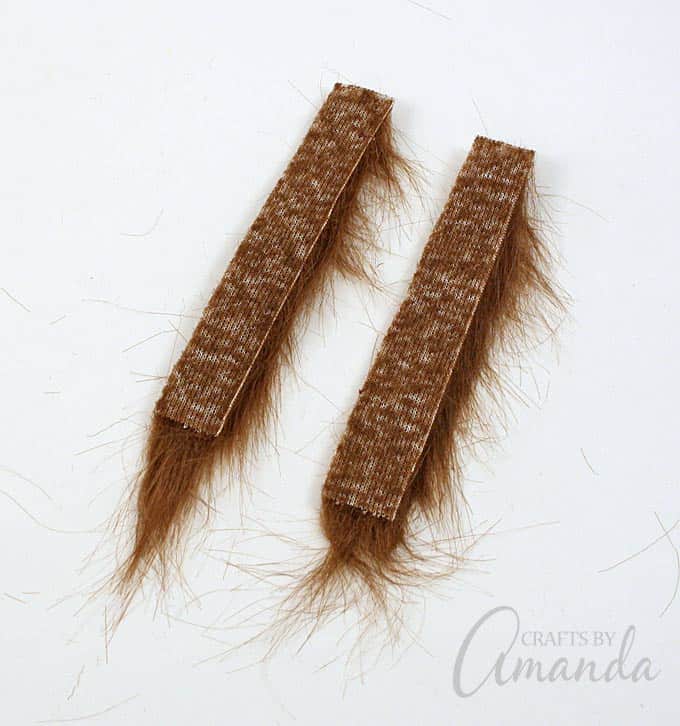 Cut two 5"x½" strips from the remaining fur for arms. Glue arms to the back of the stick.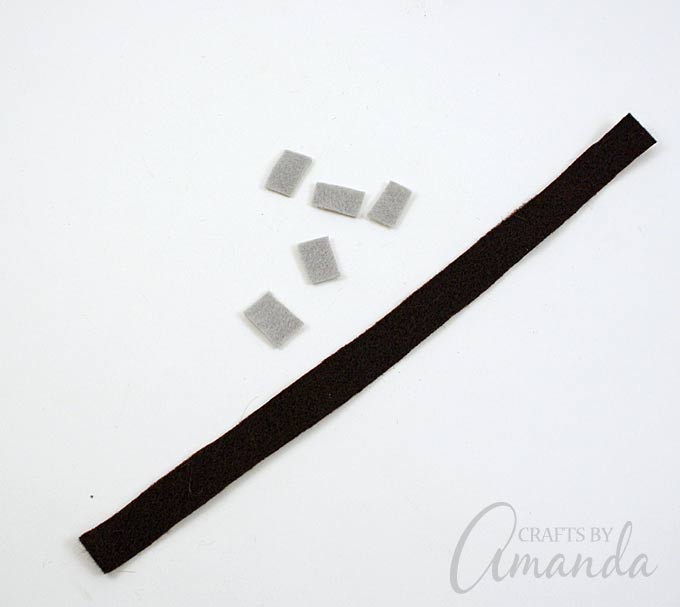 Cut a 9"x½" strip of dark brown felt for the bandolier.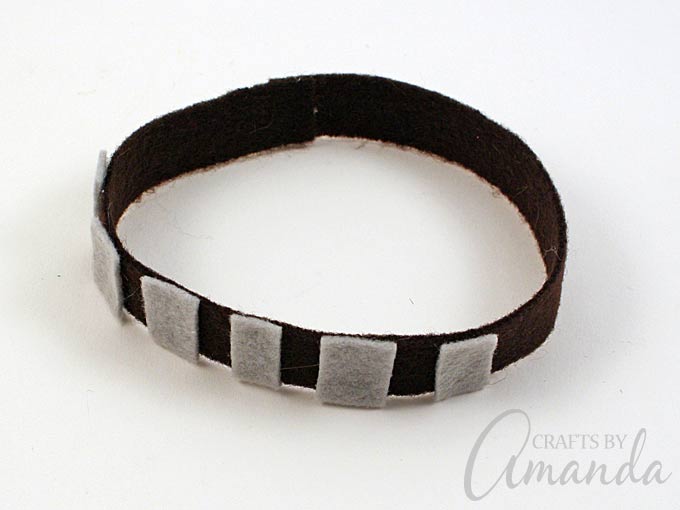 Cut six squares and rectangles from gray felt for the ammo boxes.
Glue the ends of the brown felt together to connect them and glue the ammo boxes onto the bandolier. Place bandolier over the top of the paint stick, over one arm and under the other. Glue it in place.
Use glue to attach pom pom nose and googly eyes.