Before You Start:
We made ours with vanilla, but you could take this a step further by giving your marshmallows a different flavor, like orange, lemon or even chocolate. Making marshmallows is so much easier than many people think — but be extra careful when handling the hot syrup as it can cause serious burns. Store your finished treats in an airtight container for up to one week.
1 cup powdered sugar
powdered food coloring
3 1/2 envelopes unflavored gelatin
1 cup cold water
2 cups sugar
1/2 cup light corn syrup
1/4 teaspoon salt
2 egg whites
1 tablespoon vanilla or extract of your choice
orange sanding sugar
1 cup semisweet chocolate chips
1/3 cup heavy cream
24 chocolate wafers
1. Sift together powdered sugar and powdered food color. Whisk to combine well.
2. Oil a 9x13x2 pan and dust with powdered sugar on the bottom and sides. Set aside.
3. Pour 1/2 cup of the water in the bowl of a mixer then sprinkle the gelatin over the top. Let stand to soften.
4. In a medium saucepan, add the remaining water, sugar, corn syrup and salt. Heat over low heat, stirring occasionally, until completely dissolved.
5. Turn heat to medium-low to medium and bring to a boil. Continue cooking, without stirring, until mixture reaches 240 degrees F (soft ball stage) on a candy thermometer (10-12 minutes).
7. With the whisk attachment, beat the mixture on high speed until white, thick and more than double its original volume (6-8 minutes).
8. In a separate bowl beat egg whites to stiff peaks (Image 1).
9. Add egg whites, vanilla and 1/2 teaspoon of powdered food color to marshmallow mixture and beat just long enough to incorporate (Image 2).
10. Pour mixture into prepared pan and smooth out as evenly as possible (Image 1).
11. Sift powdered sugar generously over the top of the marshmallow and chill in the refrigerator for at least 4 hours before proceeding (Image 2).
12. Use a knife to loosen marshmallow from edges of the pan.
13. Apply a small amount of cooking oil to a 2″ circle cookie cutter. Cut as many circles as possible from the sheet of marshmallow.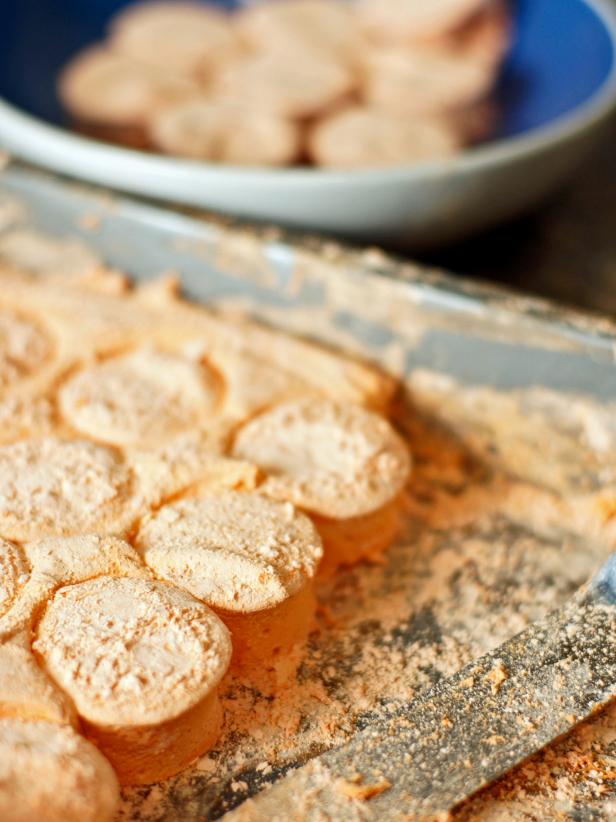 14. Using an offset spatula lift the marshmallow from the pan and slide the spatula underneath to release each of the rounds.
15. When the pan is empty, place the remaining powdered sugar back in the pan and toss the marshmallow rounds to coat all sides completely.
16. Place a quarter cup of orange sanding sugar in a plastic container with a snug-fitting lid.
17. Using a spray bottle, mist a marshmallow round on the smoothest flat surface and the sides.
18. Place the marshmallow round in the plastic container and shake to coat with sanding sugar.
19. Remove from the sugar and set aside.
20. When you have completed coating all of the rounds with sugar, pour heavy cream into a small saucepan and heat over medium-low heat until it just begins to boil.
21. Add chocolate chips and swirl pan just a bit to even out layer and coat all chips. Let rest without stirring for 5 minutes.
22. Whisk chocolate chips and cream together until smooth.
23. Pour warm chocolate into piping bag fitted with a fine-point tip.
24. Use the chocolate to make triangles for the eyes and then a zigzag mouth. Fill in the mouth with chocolate (Image 1).
25. Pipe chocolate on the top side of a chocolate wafer and then place a marshmallow round in the center (Image 2).