Girls would fully agree with us that you can never have too many dresses. In this post, we're bringing you a completely FREE August Dress sewing pattern, from a really talented designer, for a simple and cute dress for your little girls.
With this pattern, you can create a dress with so many different looks. There are many choices, especially when it comes to combining different styles and patterns of fabrics. You can use the same colors or a variety of fabrics. In the picture below you can see that you can make this dress shorter as a tunic for your little girl who can wear it in combination with leggings.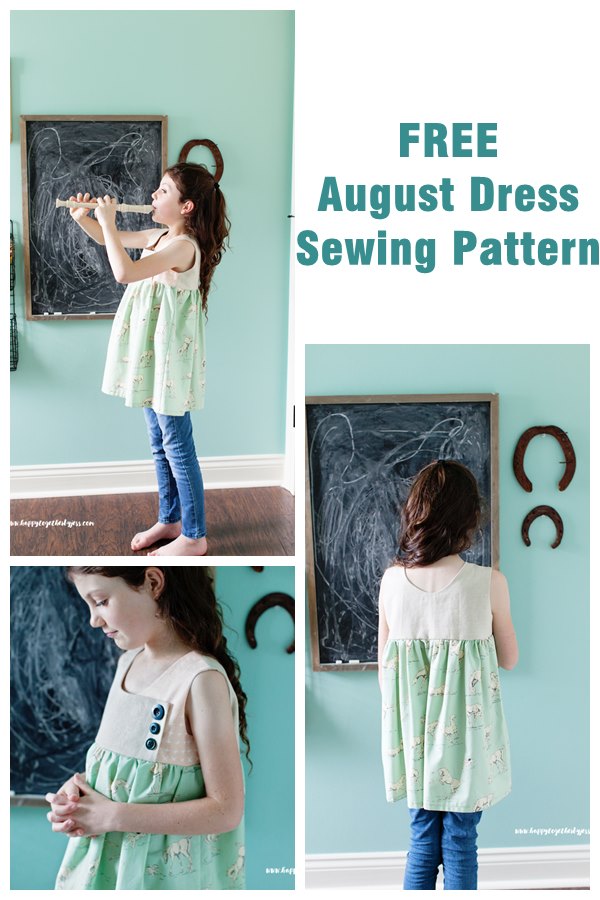 The great thing about the August Dress sewing pattern is that there is no need for buttonholes, zippers, or other closures since the hand-sewn buttons hold the front in place. The buttons keep the top attached and are far enough over to one side to allow space to fit the dress over your child's head.
You can add your own touch to this pattern as there are many button options, that come in different colors, shapes and sizes. Depending on the size of the dress, you can decide how many buttons you want to add to it. You can add fancy buttons or more whimsical buttons or whatever you or your daughter wants.
The FREE August Dress sewing pattern comes in sizes from 2 years up to 9 years old. It's quite easy to sew as the pattern comes with thorough step-by-step instructions and lots of useful pictures.
It is an ideal dress for warm spring and hot summer days. We believe your little girl is going to love it.
SUPPLIES THAT YOU WILL NEED FOR SEWING:-
Print out the August Dress Pattern PDF
1/2 yard of the main fabric for the top (or less for each piece if you use different fabrics)
1/2 yard of fabric for the lining
For bottom: 1/2 yd for size 2/3, 1 yd for size 4/5, 1.5 yds. for size 6/7, and 2 yds. for size 8/9 (You can, of course, make it shorter and make this a top. That would obviously use less fabric if you choose to do this).
Buttons of your choice
Basic sewing supplies
A sewing machine.