I know I said the Valentine Tissue Wreath was one of my favorite Valentines craft, but this button craft is my favorite!
MORE ACTIVITIES YOU MIGHT LIKE
I absolutely love how this looks on my mantel right now. It glimmers and shines in the light.
Henry started with sorting buttons in a muffin tin. (I was planning on only using reds, pinks, and whites.) This would be a great way activity for older toddlers learning colors, I've shared a bunch of toddler learning activities for colors, shapes, letters and numbers.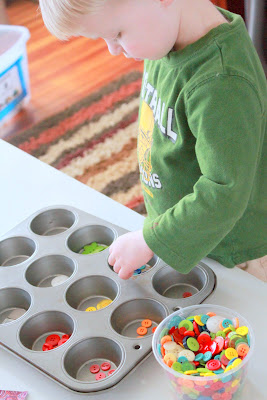 What you'll need to make this Heart Button Craft:
1 Red 12×12 piece of scrapbook paper
1 Pink 12×12 piece of scrapbook paper
School Glue
Buttons in all different colors and sizes (the brighter the better!)
Henry just added buttons as he liked all around the heart until it was filled up. I joined him in adding buttons just as an activity for us to do together.