Well, Thanksgiving has come and gone, are we now in December? ! How is this possible? !
I'm not sure how we got here, but I try not to spend too much time thinking about it! On the contrary, I have been busy preparing our home for the holidays! Yesterday I spent a lot of time decorating our home and I am very happy with how things are going! So, if you are okay, I think I will share another Christmas project with you today!
I hope you will like this burlap Christmas wreath as much as I do!
Supplies:
14″ Styrofoam Wreath form
1/2 yard of Burlap (approximate)
Christmas Picks/Sprays/Ornaments
Hot Glue
Jute/Twine
In addition, I also picked up a tree ornament & a handful of Christmas picks/sprays from Hobby Lobby while they were on sale. Then, I used my 40% off coupon to purchase the striped burlap ribbon you see below. I also grabbed a few things from my personal stash at home, but didn't end up using anything from it.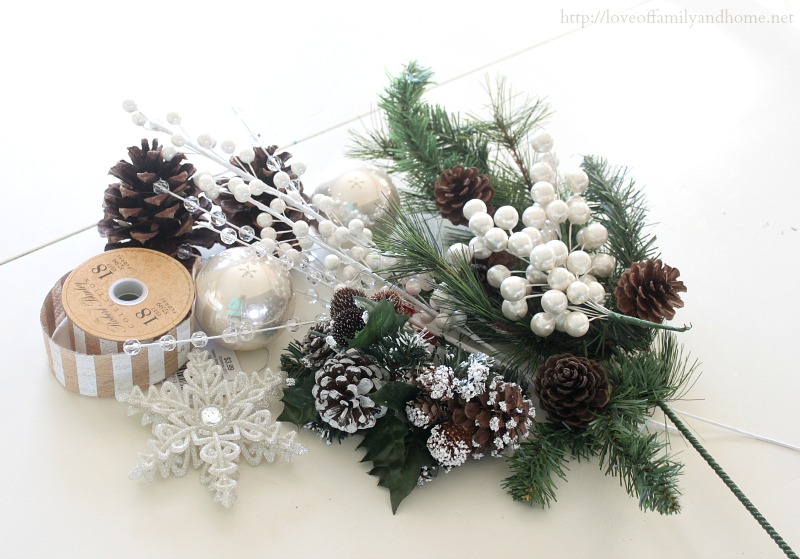 I had about 1/2 yard of burlap on hand & wanted to use it to cover my wreath form, so I cut it into 2″ strips & wrapped it around the  wreath form, securing it with hot glue as I went. (My motivation to start this project struck at night, so you'll have to forgive me for the poor lighting in the next few photos.)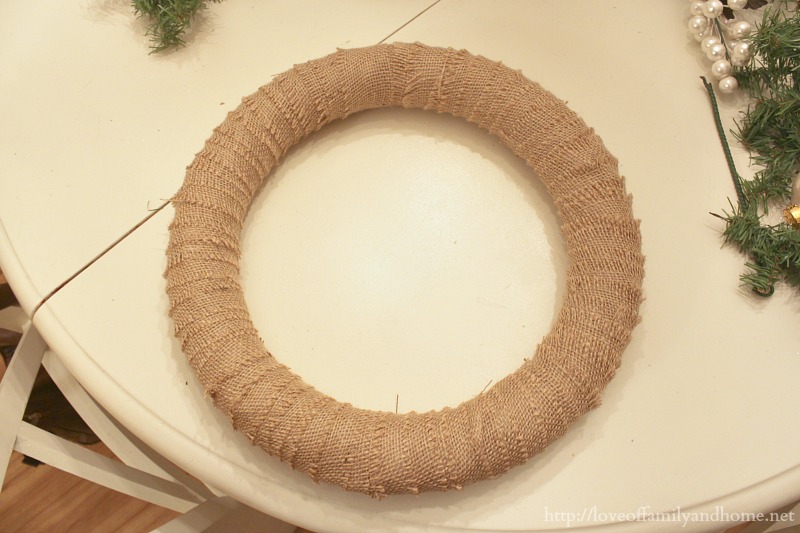 Once the wreath form was covered, I started putting together the floral arrangement for the wreath. I started with my greenery & berries and then added things as I went. I secured the greenery & berries to the wreath by wrapping jute around the arrangement & tying it in a knot. Just for a little added protection, I also added a some hot glue around the knot to make sure it wouldn't come untied.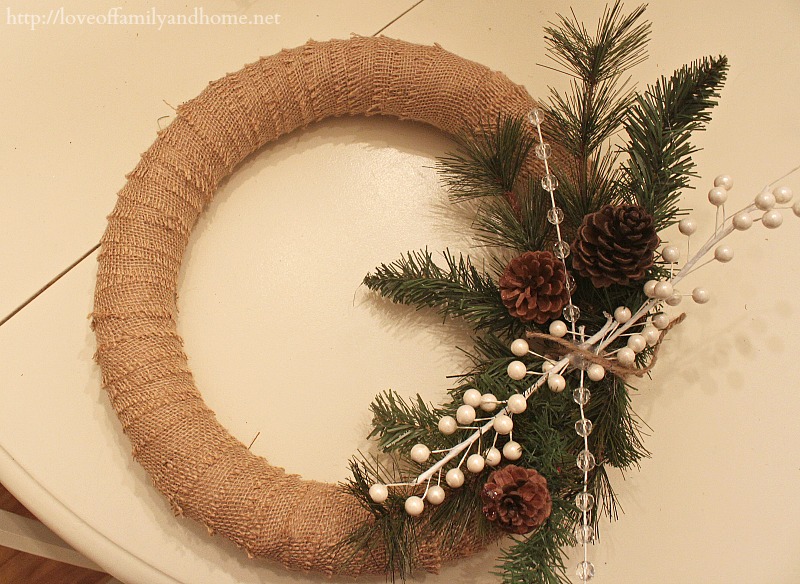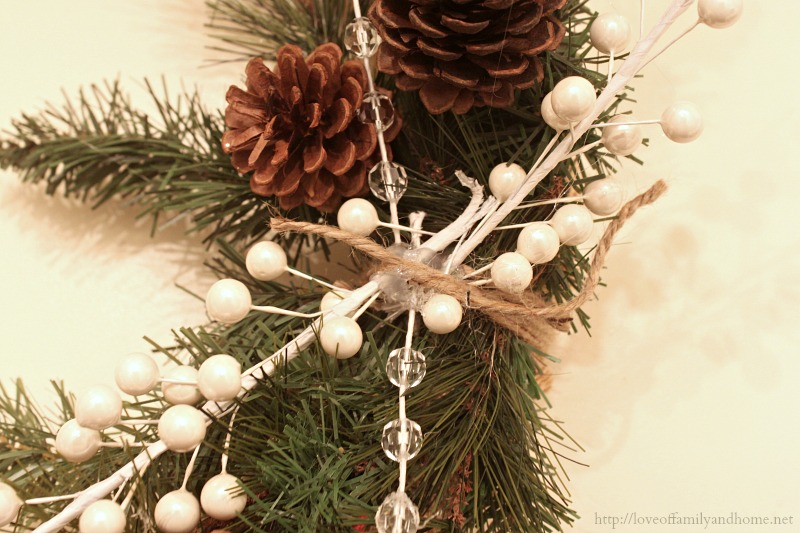 Once the greenery & berries were in place, I added my ornament to the center of the arrangement using more hot glue. I also glued in a few loops of the striped burlap ribbon to bring a little more color to the floral arrangement. Using the left-over ribbon, I hung the wreath from our door.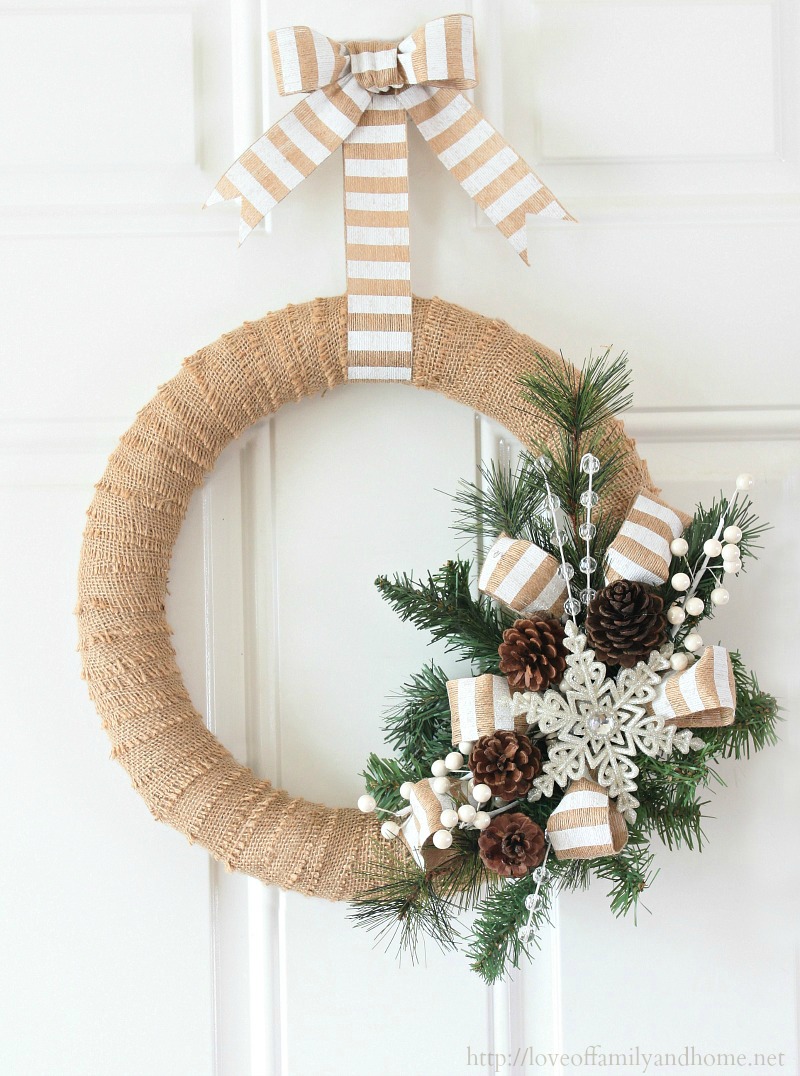 I have had several people ask me how I hang our wreaths, because you can see there is no visible wreath hanger on the door. My secret are these amazing magnetic wreath hangers from Hobby Lobby. They work like a dream!  To actually hang the wreath, I take a strip of ribbon & run it through the center of the wreath form until the two ends meet. Then I just cut a little hole in the two ends & hang it from the wreath hanger. To cover up the hole (and the wreath hanger), I make a small bow (seen below) & then just hot glue it on. It comes off easily later & makes the wreath & the bow lay flat & pretty!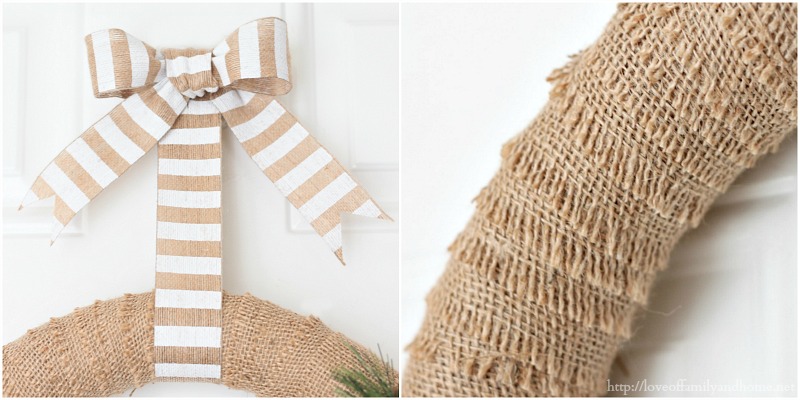 A few close-ups of the floral arrangement…..I love the mixture of pinecones, greenery, & ribbon!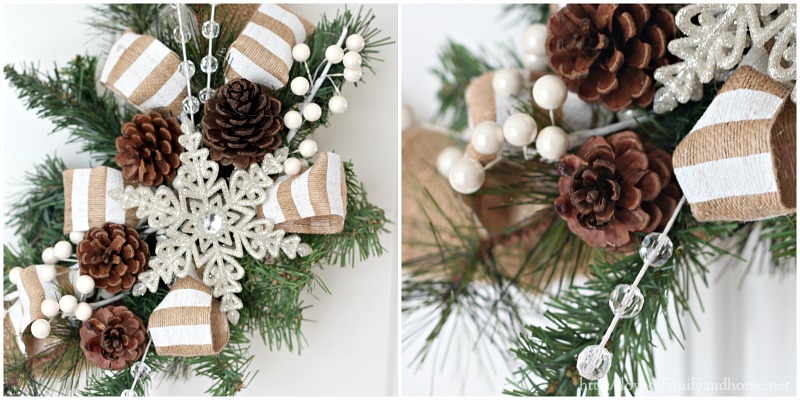 If you can't tell already, I'm sticking to a neutral color palette this Christmas season and I kinda LOVE it! We bought a new tree this year & it inspired a whole new look for our living room/kitchen area. I hope to share photos of our tree & those living areas later next week! Stay tuned!!
Well, that's pretty much a wrap on my Burlap Christmas Wreath Tutorial! As you can see, there really isn't much to it!