Prep Time: 

15

 

mins           

Cook Time: 

40

 

mins         

Total Time: 

55

 

mins
WHAT IS CURRY POWDER?
Since curry powder is responsible for all of the seasoning in the bowls, let's take a minute to chat about it. If you've never had curry powder, it's a warm blend of spices that are pre-ground and blended to mimic the fresh spices used in Indian cuisine. This blend usually includes cumin, turmeric, coriander, and other spices. Every curry powder blend is unique, so you may need to experiment with different brands or recipes to find one that suits your palate. If you'd like to try making your own curry powder, try this recipe for homemade curry powder from Spice it Upp.
ADD MORE TO YOUR CURRY ROASTED VEGETABLE BOWLS
I kept my curry roasted vegetable bowls simple because I like simplicity, but you can add more to make them a little more fancy, if you'd like. I think a light sprinkle of raisins would add an incredible pop of sweetness to contrast the savory curry powder and tahini dressing.
Slivered almonds would offer an amazing crunch to these bowls without competing with the already strong flavors.
If you want to add some meat, rotisserie chicken would be great, as would some Yogurt Marinated Chicken.
SWAP OUT THE VEGETABLES OR GRAINS
This recipe is super flexible. You can swap out the vegetables for anything you like. Try broccoli, sweet potatoes, asparagus, sweet bell peppers, Brussels sprouts, or whatever vegetable you like.
The same goes for the "bed" for these bowls. If you don't like brown rice you can swap it out with white rice, couscous, quinoa, your favorite grain, or even salad greens.
HOW LONG DO THE LEFTOVERS LAST?
Simple bowl meals like this hold up in the refrigerator for about four days, with the dressing kept on the side. Your mileage may vary depending on the freshness of your ingredients and the conditions within your fridge. I'll link my favorite meal prep containers for meals like this in the recipe below.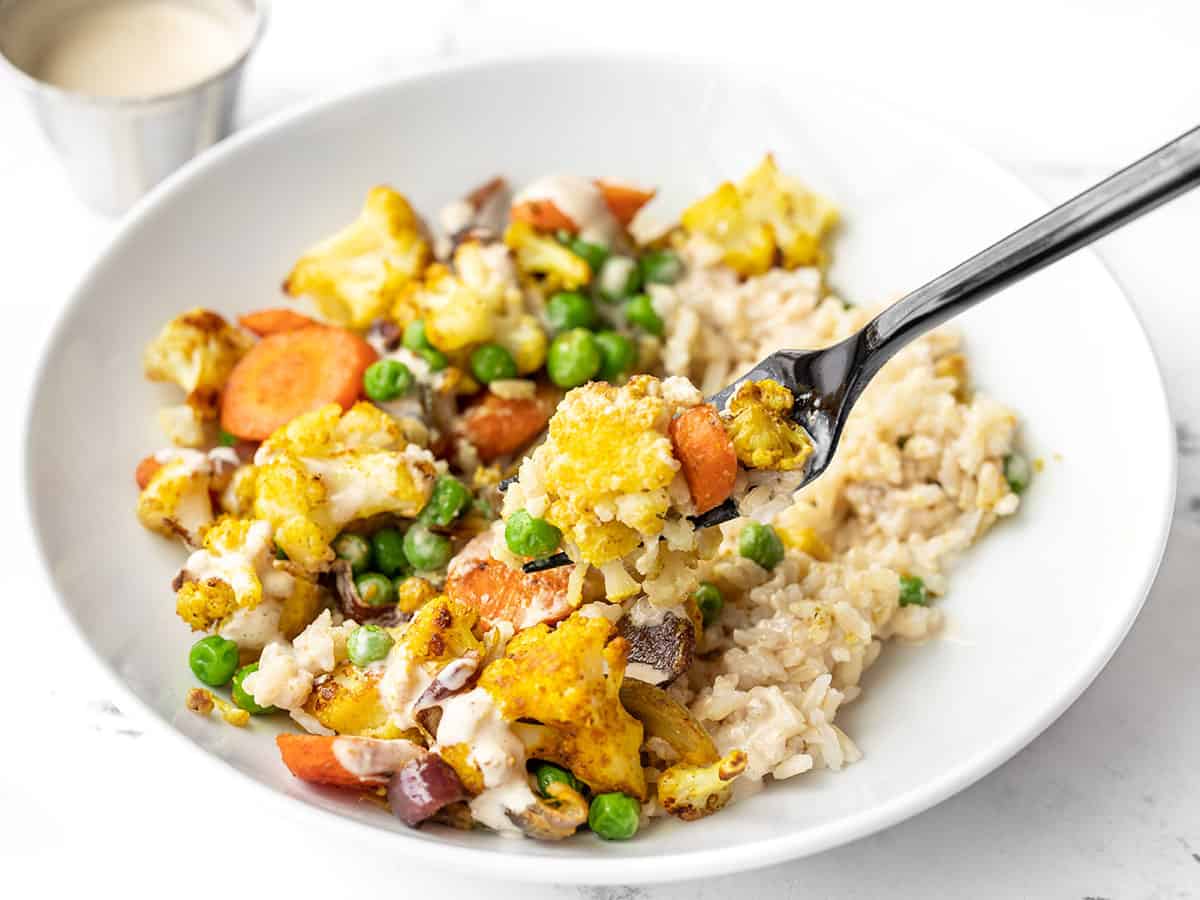 INGREDIENTS:
1

 

cup

 

long grain brown rice (uncooked)

 

($0.40)

1

 

head

 

cauliflower

 

($2.29)

3

 

carrots

 

($0.24)

1

 

red onion

 

($0.37)

1

 

cup

 

frozen peas

 

($0.60)

2

 

Tbsp

 

olive oil

 

($0.32)

2

 

Tbsp

 

curry powder

 

($0.30)

1/2

 

tsp

 

salt

 

($0.02)
LEMON TAHINI DRESSING
1/3

 

cup

 

tahini

 

($1.13)

1/3

 

cup

 

water

 

($0.00)

1/4

 

cup

 

lemon juice

 

($0.18)

2

 

cloves

 

garlic, minced

 

($0.16)

1/2

 

tsp 

ground cumin

 

($0.05)

1/4

 

tsp

 

cayenne

 

($0.02)

1/4

 

tsp

 

salt

 

($0.02)
INSTRUCTIONS
Begin the rice first because it takes the longest to cook. Combine the uncooked rice in a pot with 2 cups water. Place a lid on top, turn the heat onto high, and allow the water to come up to a full boil. Once boiling, turn the heat down to low and let the rice simmer for 45 minutes (no stirring). After 45 minutes, turn the heat off and let it rest with the lid in place for an additional five minutes.

Once the rice is started, move on to the curry roasted vegetables. Preheat the oven to 400ºF. Chop the cauliflower into bite-sized florets. Peel and slice the carrots. Slice the red onion into ¼-inch wide slices.

Place the cauliflower, carrots, and red onion on a parchment lined baking sheet. Drizzle the olive oil over top, then add the curry powder and salt. Toss the vegetables until everything is evenly coated in oil and spices. Spread the vegetables out over the baking sheet in a single layer.

Transfer the seasoned vegetables to the oven and roast for 20 minutes. After 20 minutes give them a good stir, then roast for another 15 minutes. Next, add the frozen peas and toss together with the roasted vegetables, then return the baking sheet to the oven for the an additional 5 minutes. Taste the vegetables and add additional salt, if needed.

While the rice is simmering and the vegetables are roasting, make the lemon tahini dressing. Place the tahini, water, lemon juice, minced garlic, cumin, cayenne, and salt in a blender then blend until smooth. Set the dressing aside.

When the rice has finished cooking, fluff with a fork. Place about ¾ cup rice into each bowl or meal prep container. Top with ¼ of the roasted vegetables. Drizzle with a few tablespoons of dressing just before serving.
NUTRITION
Serving: 
1
serving
 ・ 
Calories: 
480.38
kcal
 ・ 
Carbohydrates: 
66.68
g
 ・ 
Protein: 
14.18
g
 ・ 
Fat: 
20.38
g
 ・ 
Sodium: 
579.93
mg
 ・ 
Fiber: 
12.85
g
Nutritional values are estimates only. 
Budget-Friendly Vegetarian Recipes
Ingredients
1 cup

long grain brown rice

(uncooked)

1

head cauliflower

3

carrots

1

red onion

1 cup

frozen peas

2 Tbsp

olive oil

2 Tbsp

curry powder

1/2 tsp

salt
LEMON TAHINI DRESSING
1/3 cup

tahini

1/3 cup

water

1/4 cup

lemon juice

2 cloves

garlic,

minced

1/2 tsp

ground cumin

1/4 tsp

cayenne

1/4 tsp

salt