These days many people think a "Luau" is one of those must do things when visiting Hawaii.  It has pretty much turned into a commercialized tourist attraction that includes "Hawaiian" food, music, and of course dance, namely the hula.
And of course a luau is where one can consume copious amounts of maitais, blue Hawaiis, and other tropical concoctions.
All this is fine for the millions of tourists who visit the islands each year.  Of course they should attend a luau at many of the local venues like Paradise Cove or the Polynesian Cultural Center.  One must certainly try poi, haupia, and kalua pork, the mainstays of a "genuine" Hawaiian luau.
But for Hawaii residents a luau is so much more than maitais, hula, and kalua pork.  A luau is a traditional Hawaiian feast or party.  And yes traditional Hawaiian food is usually served along side other local favorites that showcase Hawaii's diversity.
Hawaii residents generally host a luau to commemorate milestone events such as weddings, graduations, and birthdays, particularly baby's 1st. birthday.  In the Hawaiian culture and many of the other cultures that are part of Hawaii's diverse population (Filipino, Korean, Japanese, Chinese, and Polynesian) a baby's first birthday is definitely a milestone that deserves a luau.
Back in the day when infant mortality was high  a baby reaching his or her first birthday was a big deal.  These days a high infant mortality rate is no longer an issue, but many local folks still keep up the tradition.   To celebrate baby's first birthday many of us here on the island throw what we call a Baby Luau.  A huge party where parents and grandparents invite family, friends, and neighbors.
Now you don't have to live in Hawaii to host a baby luau (or any kind of luau for that matter).  People world wide host Hawaiian themed parties and call them luaus all the time.  It's a very popular theme that's pretty easy to do.
Here are a few ideas to help you plan a luau for your baby's 1st. birthday or any other milestone you want to mark with a luau!
This article contains affiliate links.
Pineapple Invitations
What's the first thing that comes to mind when you hear luau?  Pineapples of course!  So set the stage for your baby luau with pineapple invitations.
Order your hand cut pineapple invitations from Savvy Nana Crafts!
Decorations
The next things that comes to mind when you hear luau would be grass skirts, flower leis, and  tikis.
The leis can actually double as party favors!  Greet each guest with a lei and send them home with it!
Food & Beverage
Kalua pork, laulau, poi, lomilomi salmon, haupia, and kololo are almost always served at traditional Hawaiian luaus.  But most people are probably not equipped with an imu (underground oven) or want to cook a whole pig in a pit.
The food and beverage you want to serve at your luau is really up to you.  These days luau food is a mish mash of local favorites including Shoyu Chicken,  Filipino Pancit and Lumpia, Korean Kalbi, and even sushi.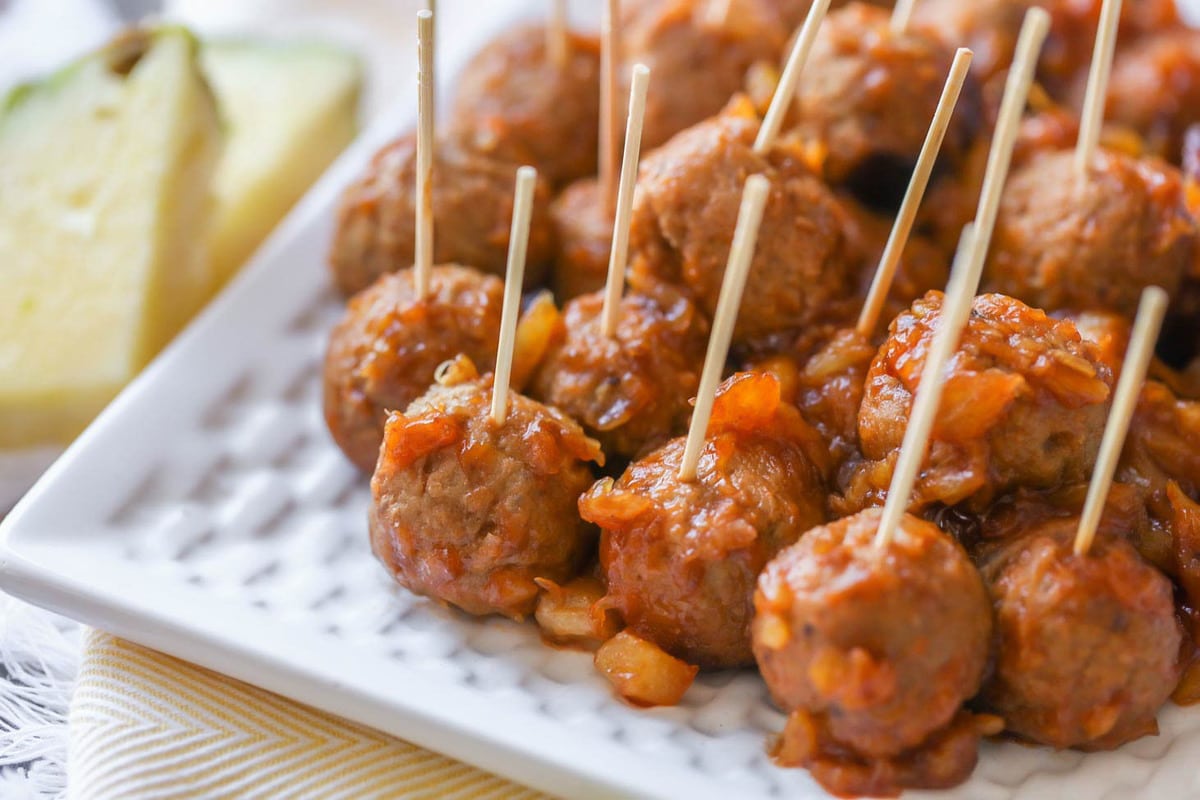 If those don't appeal to you than take one of your favorite recipes and add a polynesian twist to them like Pineapple Meatballs or Hawaiian Pulled Pork Sandwiches.
As for beverage how about some good old Hawaiian Punch!  They're sold in gallon jugs at most grocery stores.  If you're looking for something with a bit more punch then mix up a batch of maitais.