Halloween is lots of fun.  I've mentioned many times that it's my second most favorite holiday, second only to Christmas.  I love the décor, the costumes, trick or treaters, treats, and most of all the parties.  I've been planning and hosting Halloween parties since my kids were young, now we host them for the grandkids and their buddies.  But Halloween parties aren't just for kids, adults love them too!
Throwing an adult Halloween party is pretty much like throwing a kids' Halloween party, but with a bit more.  When throwing kids Halloween parties you to keep decorations less scary, the food simpler, the games and activities geared for the appropriate age groups, and of course the drinks all non-alcoholic.  Adult Halloween parties can be spookier and more sophisticated.  You can go to town with the décor; you can go for gory themes à la Texas Chainsaw Massacre, a subtler vintage theme like the Haunted Mansion, or a more sophisticated theme like maybe channeling trendy designers like Kate Spate and decorate with black and white stripes and polka dots.  Really the possibilities are endless.
Adult Halloween parties also require food that's a bit heartier and more sophisticated than mummy pizzas.  You can spread out a dinner buffet or for small parties host a spooky sit down dinner.  And of course you can serve booze!
As for party activities you have lots to choose from, including some drinking games!  Or if you prefer you can watch scarier movies that you wouldn't want the kids to watch.
Here are some ideas to help you plan your Adult Halloween Party this year!
Vintage Halloween décor from Wedding Paper Divas
You can order cool Halloween invites from them too!  Click here! (affiliate link)[spacer height="20px" id="2″]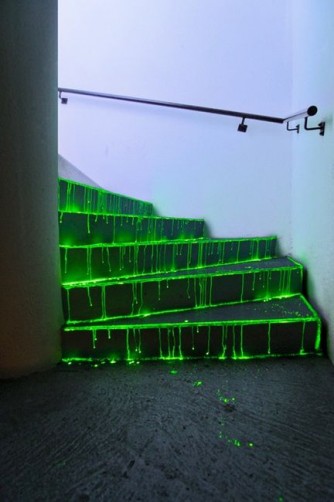 Here's a spooky idea from the Krazy Coupon Lady.  Glowing patio stairs!
Click here to learn how!
She's got lots of ideas for decorating with glow sticks too![spacer height="20px" id="2″]
Bubble, bubble toil and trouble!  I love this spooky cauldron from Home and Style![spacer height="20px" id="2″]
I love this classy dessert table by Smash Cake Southern California!
Sophisticated and spooky!
Floating candles are cool, specially for Harry Potter fans!  Your theme can even be Harry Potter.
Learn how to do this and get more Harry Potter ideas from Eating Bender!  Click here![spacer height="20px" id="2″]
Chic and sophisticated, I love this spooky stripe setting by Elle Decor!  It brings the trendy look of Kate Spade to mind.
Jello shots, literally"brain" dip!  Learn how from the Stylista!

[spacer height="20px" id="2″]
For drinking games with a Halloween twist check out Celebration's ideas here!
This is the Halloween version of classic beer pong![spacer height="20px" id="2″]
And don't forget the booze.  Click here for some spooktacular cocktail recipes from around the web![spacer height="20px" id="2″]