I enjoy doing crafts but I am not the best at making them. I try to stick to quick and easy crafts. With having 4 young kids I need to be able to start and finish my crafts in a short period of time so I can do it without too much hassle from the kids. These 4th of July Firework Blocks fit my requirements and are super cute!
I recently decided that I loved these block so much that I am manufacturing them to sell in a craft kit!
Make it yourself: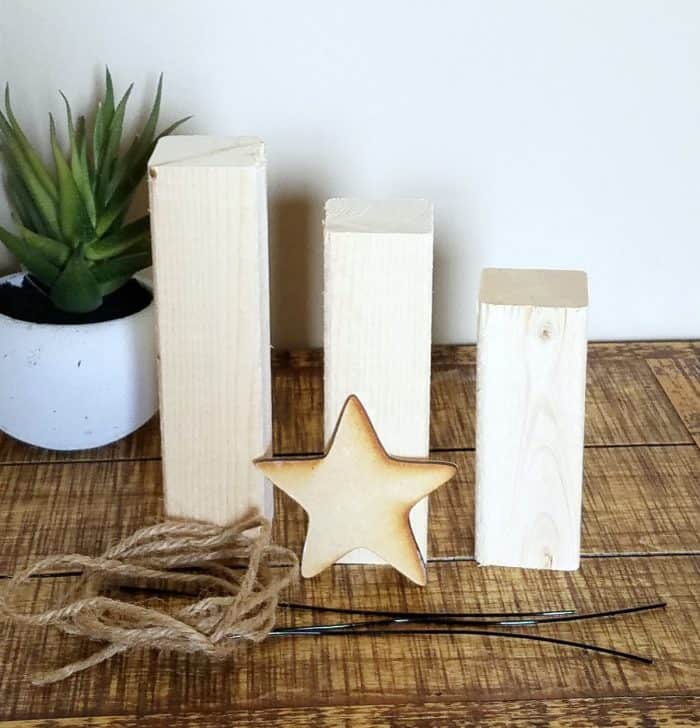 Red, White and Blue acrylic paint
3 paint brushes
drill
Firework Blocks Craft Kit (has everything else included!)
In the tops of each block of wood drill a small hole about 1/2 inch deep into the block. This will enable you to easily place the wire "wicks" into your fireworks.
Paint each block and the star the colors of your choosing.
While waiting for the blocks to dry, take your wire and wrap it around a pencil 4-5 times to create the "swirly" tops.
Once blocks are dry insert wire "wick".
Place star in the location you want it and then tie it onto the blocks with the twine several times. Tie a knot in the back to keep the twine in place.
**TIP: To keep the blocks secure and in place you can glue them to each other. You can also glue the star where you want it as well.**
Want to skip the hassle of buying all the individual supplies and having to the cut the wood to size? Buy my already assembled Firework Blocks Craft Kit here:
I have a plethora of 4th of July crafts, recipes and fun so visit my 4th of July section. If you are interested in a quick and easy 4th of July craft FOR your kids, check out these Popsicle Stick Flag Magnets. Want to make a cute new sew flag shirt? Check out this tutorial.
For more 4th of July fun, check out this Pinterest board for craft, recipes and party ideas!