Whenever I'm asked me where I live I always get the same reaction when I tell them that I live in Hawaii. My declaration never fails to impress. Whether it's a taxi driver in Rome, the tour guide in Russia, a shop keeper in Istanbul, or fellow travelers on a cruise ship, my response is met with awe mixed with just a tinge of envy. It seems that the 50th. State is on almost everyone's travel bucket list.
The mention of Hawaii invokes images of pristine beaches, crystal clear ocean, and amazing sunsets; it promises adventure, luxury, and romance. Hawaii is all of that and more. Our islands abound with beautiful beaches, exotic sealife, and exquisite sunsets.
If you're looking for romance Hawaii is the perfect destination for Valentine's Day. Our world class resorts with their friendly staff will surpass your expectations. Here is a list of the most romantic hotels on our islands. Perhaps it will inspire you to visit our lovely islands.
Royal Hawaiin Hotel
The iconic Royal Hawaiian Hotel is nicked named "The Pink Palace of the Pacific". It opened its doors on
February 1, 1927 and today is a member of Starwood Hotels' Luxury Resorts Collection. It is also a member of
It is located in Waikiki on the island of Oahu. The resort is nestled in a 15 acre tropical garden on the shores of famous Waikiki Beach.
The Moana Hotel
It is located in the heart of Waikiki on the island of Oahu on the shores of Waikiki Beach. Indulge in a sumptuous afternoon tea on the veranda that's steps away for the beach.
The Kahala Hotel & Resort
Located on Oahu's Gold Coast The Kahala Hotel & Resort has it all; luxurious suites, award winning restaurants, and dolphins.
Have a personal encounter with these intelligent creatures right in the hotel's lagoon.
St. Regis Proceville
Located in the resort community of Princeville in Hanalei on the northern shore of The Graden Isle, Kaui, is the St. Regis Princeville. This resort marks this legendary brand's first resort
in the 50th. State.
Enjoy unparalleled sophistication and serene luxury on what many consider to be one of the most spectacular destination in Hawaii.
Book your luxury vacation here!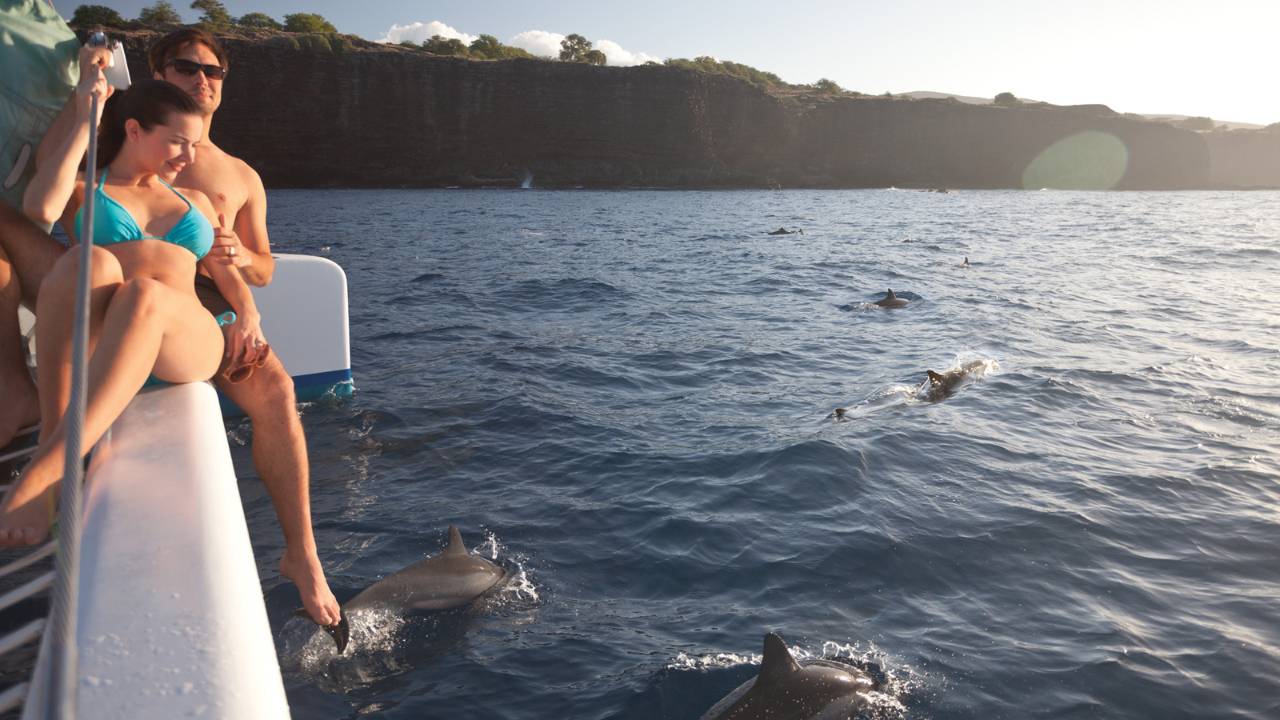 The Four Seasons Resort at Manele Bay
The Four Season Resort Lanai at Manele Bay
has everything you've come to expect from a Four Season's property.
The Ritz Carlton Kapalua
The Ritz Carlton Kapalua on the island of Maui is luxury at it's finest. Hike through the island's lush forest, snorkel among Maui's coral reef, or get pampered in a cabana by the pool. Whatever your interest the Ritz Carlton staff will provide you with a memorable experience at one of Hawaii's most beautiful resorts.
Book your unforgettable vacation here!
The Grand Wailea
The Grand Wailea, A Waldorf Astoria Resort is in Wailea on the island of Maui. On the shores of Wailea Beach the resort boast 9 sparkling pools, champion golf courses, award winning restaurants, and spectacular views.
Book your dream vacation here!

Four Seasons Resort Hualālai
The Four Seasons Resort Hualalai at Historic Ka'ūpūlehu in Kailua Kona on the Big Island of Hawaii. This resort will exceed your expectations of a Four Seasons property. Impeccable service, outstanding food, and views to die for.
Book your romantic vacation here!