That's it Christmas is over, the last carol sung, the last gift unwrapped, and the last cookie eaten; it's time to put away Christmas.  Ugh!  I hate putting lights, ornaments, and all the Christmas stuff away, not as fun as taking them out of storage!

I thought I was clever when years ago I bought a dozen large plastic bins from Walmart to store everything in.  Still a good idea, but somehow every year I need more bins.
I don't know why the same ornaments won't fit back in the bins they came out of.  Of course there's the new stuff I got at the after Christmas sales, they need to be stored too.
Then there's the lights, no matter how I store them they mysteriously shift so that the next year I end up spending hours untangling them, or getting frustrated and replacing them with new ones.  This year will be better, I hope!
I'm not looking forward to the chore, but it must be done.  With a few new storage ideas and taking a few extra steps to organize everything I think I can do this.  Here are a few tips I found around the web, cheap organization tips that use  re-cycled and re-purposed items most of us have at home.
The bins are still handy, get the ones you can see thru so you know which bins to pull out next year. Assorted bins can be purchased at Walmart, Home Depot, and other discount stores.  There are "special" bins such wreath storage bags and ornament storage boxes, they are more expensive and I've always thought don't store much and take up too much room, there are easier and cheaper ways to organize and store all the ornaments, the cheap large rectangular bins work best to keep smaller containers organized in one place.
Before you begin gather your supplies:
Clear sided large plastic bins
Cardboard squares
Egg cartons, fruit cartons, take out drink caddies, plastic cups, empty water bottles, or ziplock bags – you can use any of these containers or a combination of them – depending on what you have available
Sharpie Marker
Large trash bags (for the tree, and other large odd shaped items)
Clothes hangers (for wreathes)
Masking Tape
1.  Wrap lights to keep them from getting tangled.  This will save you the frustration of untangling them next year.
Before placing them in a bin wrap them around a hanger  or piece of flat cardboard (cut slits on each end of the cardboard, they will hold the light plugs in place
Or wind them around empty coffee cans.  Use masking tape and markers to label the lights – indoor tree lights or outdoor ones
2.  You can use the same technique to store garland or you can store beaded garland in empty water bottles.[spacer height="-20px"]
3.  There are several ways to store ornaments depending on the type of ornament as well as what supplies you have on hand.
Learn how to make this inexpensive hanging bin to store ornaments from Craptastic.
Use the plastic fruit containers from Costco to store large fragile ornaments.  It's easy and FREE.
Store smaller ones in egg cartons.
Recycle cardboard
 drink caddies and stack them in your plastic bin.
Glue plastic cups on to cardboard and stack them in your bins for fragile and odd shaped ornaments.
Use Ziplock type bags to store ornaments, you can organize them by type, color, etc.  This would work well for the shatterproof balls, if you store fragile ornaments this way you will need to use old towels and linens to cushion them and keep them from breaking.[spacer height="-20px"]
4.  Wrap fragile ceramic pieces from your Christmas Village, hurricane vases, candle holders, etc.  in old linens before placing them in your bins.  Better yet re-purpose hurricane vases, cake stands, and candle holders and use them when you decorate for other holidays through out the year.
5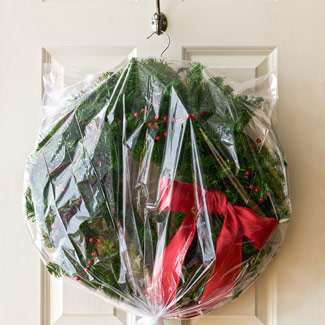 .  Hang wreathes and holiday linens to hangers and cover them in large plastic bags or trash liners to keep them clean, dry, and wrinkle free.
6.  Slip holiday candles in old stockings to keep them dust free and wrap them in tissue to keep them from being dented before putting them in boxes or bins.[spacer height="-20px"]
7.  If you have the space don't take apart artificial trees, instead throw a large trash bag over it, secure it at the bottom and place in storage.  Next year your tree will be ready to go without too much work.
Or store them in 2 8-in diameter concrete form tubes for easy compact storage.
Once you're done putting Christmas away you'll be ready to plan your winter getaway!  Call
Savvy Nana Travel
for all your travel