Super Bowl LIII is on February 3. It's the largest televised sports event in America.   Millions will watch while consuming millions of pounds of potato chips and other snacks with friends and family.
Many people host parties around the Super Bowl, after all it's more exciting when you watch the game with friends and family.  It gets really interesting when those present are rooting for opposing teams!  It certainly does at our house!
 If you're planning a Super Bowl Party here are a few ideas to get you started.
 Send out invitations
It's really a very informal event so you can text or email your Super Bowl Party invitations and ask for an RSVP via text or email.
You can create a simple invitation on picmonkey.com.  Just download a .jpg background and add borders, texts and more.  Once you've created your masterpiece you can share directly from the site.
Or you can download this free printable Super Bowl Party invitation I'm sharing with you and print it out on card stock and send to friends and family!
 If possible have 2 viewing areas.
Perhaps a media/game room and the family room, or better still your man cave and another room.  The die hard fans can watch the game uninterrupted (noise, kids, etc.) in one room, while the casual fans can watch in another room.  This should keep everyone happy!
Plan a menu of easy to make snack foods and set out a party bar or buffet.
For Super Bowl party bar ideas click here!   or if you must build a snack stadium.  For ideas and instruction on snack stadiums click here!
Decorate the party areas
Drape the table and around the rooms with pennants, flags, footballs, etc.  You can use either team's  logos or generic football decor.
Here are some fun free Super Bowl Decorations I found around the web!
Free Poster from printthisfree.com (matte & frame not included)
For printable
click here
!
Plan a fun activity or game before the game begins, at half-time, and for kids during the party.
Keep the kids busy with coloring pages of your team.
Play game bingo free printable from Flamingotoes.com click here!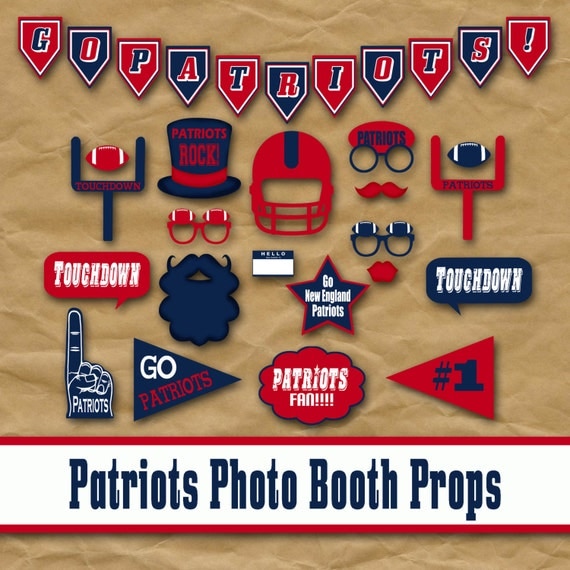 Purchase these printable photo booth props here!
A photo booth is fun for young and old.
You can use bunting, pennants, flags, etc. for your backdrop and set out props.  You can purchase downloadable printable props from Esty.com
How ever you decide to spend Super Bowl Sunday have a great time!