Mother's Day is fast approaching, this year it's Sunday, May 14th. If you're planning to take mom out for breakfast, lunch, or dinner you should make reservations now if you haven't made them already; Mother's Day is one of the busiest days for restaurants and reservations fill up fast.
Along with taking mom out for a meal the kids like to give her a gift as well, and what better gift to give mom than something made lovingly for her. Here are some really unique ideas that kids can make with just a bit of help from dad, aunties, or older siblings. Moms can make them too for grandmas, friends, and aunties!
This is one of my favorite gifts, my grandson Devon made it for me a couple of years ago.
His mom, my daughter, helped him make the hand print tree and write the poem. She then had it framed and Devon presented it to me on Mother's Day. It proudly hangs in our family room.
Here's the poem, feel free to use it for your projects.
This cute idea from Her Split Ends recycles baby food jars.
Learn how to make it
here
!
Learn how to make it here!
The Keylor Family made this lovely framed silhouette.
Learn how here!
Cover terracotta flower posts with fabric.
Learn how from Shelterness.
Kids will love making these Chevron Stripe painted kitchen towels by B-Inspired Mama.
Click here to learn how.
Learn how to make this Mason Jar Picture Frame Vase from Home Stories A to Z click here!
This cute planter recycles tuna cans decorated with clothespins.
Learn how to make it from Family Chic click here!
A Boy His Sister make these super cute photo flower pots.
I love this idea of taking a picture in a frame, my daughter did this with her kids last fall!
This pic was done by Moose Photography, professional photographers and posted by Cool Mom Picks But you can DIY it!
You'll need the same frame in 3-4 sizes depending on how many generations you want to include. Take a photo of the smallest member, the baby, frame that. Take a photo of the next, mom, holding the framed picture of the baby, frame that.
Continue with each generation, grandma, great-grandma, etc.
Be sure the pictures are all taken using the same background.
This is too cute!
This idea came from Tips from a Typical Mom.
Just take photos of your child in 5 different poses, each pose holding a letter to spell "Mommy". Mat and from the photos. Easy peasy! Great gift for Moms and Grandmas!
These photo flowers in a card stand are adorable and easy to make.
Learn how from Better Homes and Gardens.
Here's a unique way to use a picture frame from Making the World Cuter.
Not only is it cute, it will help organize mom's bathroom or dresser. Learn how to make it click here!
Any grandma would love this family tree by Homemade by Jill.
Learn how to make it click here!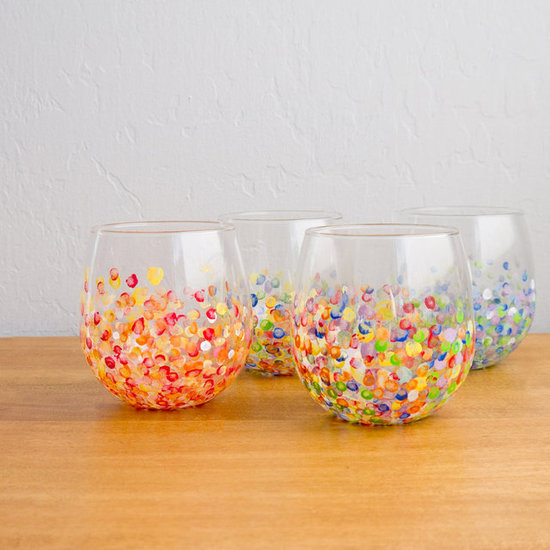 Even young kids can make these hand dotted tumblers by Pop Sugar.
Learn how click here!
Photo coaster also from Pop Sugar.
Learn how to make them click here!
Kids will love to make these fizzy bath bombs and moms will love soaking in them!
Learn how to make them from Playdough to Plato.
Salt dough heart footprints by Roaming Rosie on Hub Pages are a cute idea. Kids can help mix they dough!
Click here for instructions.
For more Mother's Day craft ideas follow my boards on Pinterest.