I have collected jars, bottles, vases, and other containers forever.  I always knew they'd come in handy one day.  Well, the day has finally arrived!  With a few easy steps and supplies from the craft and discount stores I can turn my jars and vases into hurricane vases and lamps.
I've always admired and coveted those pricey hurricane style vases and lamps I see at Pier 1, William Sonoma, and other shops.  I could never really justify the outrageous price tags and hoped someone would gift me a set some day.  Well, no one ever did, but I don't have to covet them anymore, I can make them in any shape, size, and finish my heart desires.
Hurricane vases are so versatile, they can be used obviously as vases and candle holders, but they can be so much more, specially for the holidays!
Here is how to make your own using stuff you may already have in your kitchen, as well as ideas to inspire you on how and where you can use them this holiday season.
First the basics from Home DIT.  Collect your supplies, basically vases and candle sticks. You can use any height, shape, and material you like.
This tutorial uses Gorilla Glue. Prefer using E6000.  Either work well, the idea is to glue the pieces together with strong adhesive so they don't come apart.
*Clicking on a linked product name/picture i.e. Gorilla Glue will take you to an Amazon Affiliate Link making it easier to purchase that product if you wish.
Learn how here!
If you want to get fancy you can etch the glass like they did on The Well Crafted Home.
Learn how here![spacer height="-100px" id="8″]
You can create this
fake mercury glass using Krylon Mirror Like Paint.
There are 2 very good tutorials how to this this.
Martha Stewart Tutorial click here!
Take the Side Street Tutorial click here!
You can frost them like they do on Home Talk                                                                      using Rust- Oleum   Frosted Glass Paint.
Learn how here![spacer height="-100px" id="8″]
Make these lacy frosted ones by Home Decor Resources using lacy tights and  Krylon Frosted Glass Finish.
Learn how here![spacer height="-100px" id="8″]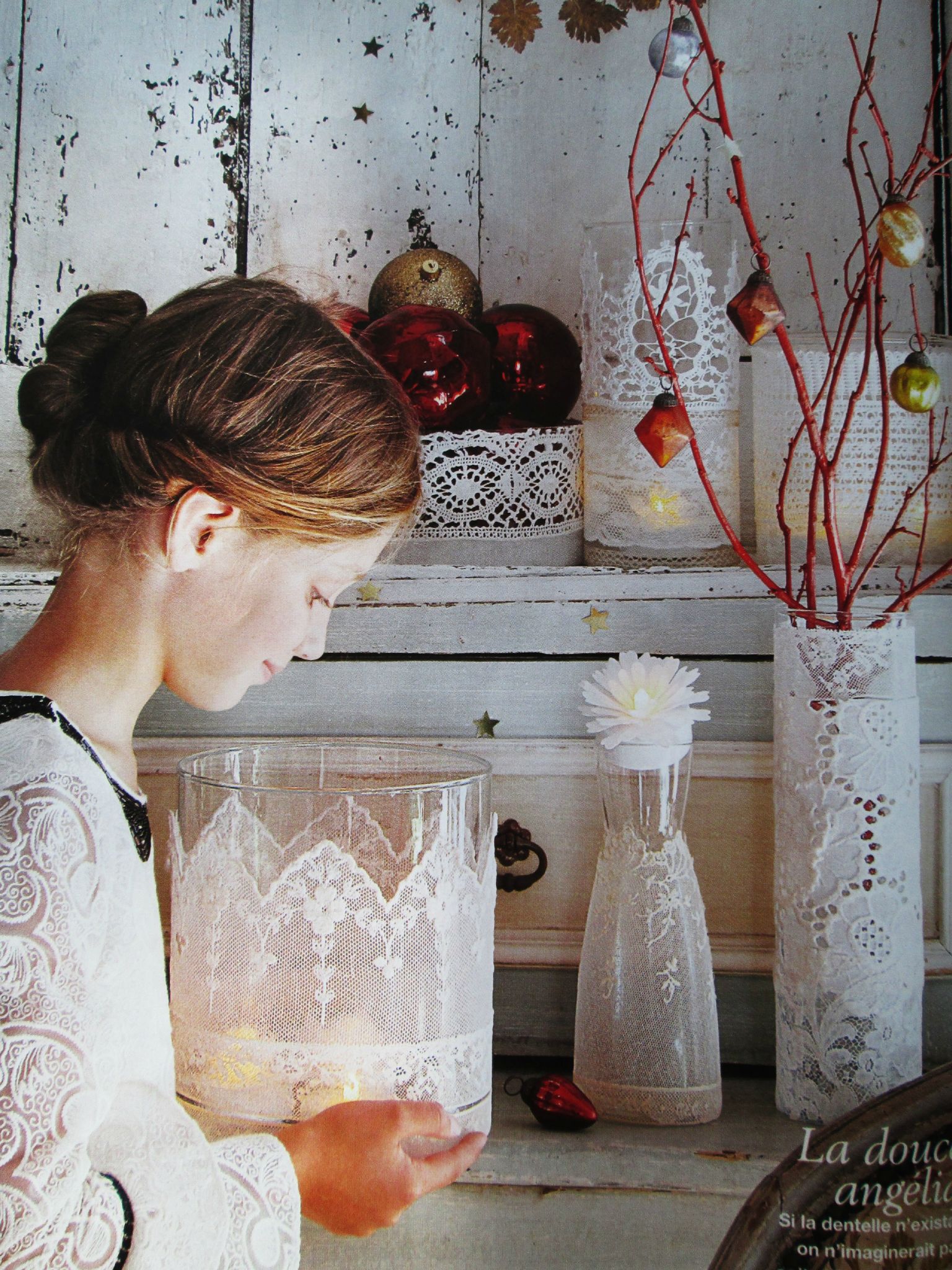 You can glue lace doilies and edging on for a more romantic look like they did at the Canalblog.com[spacer height="-100px" id="8″]
"
Etch" glittery snowflakes on them with Elmer's glue and glitter as done by So Totally Smitten.
Learn how here![spacer height="-100px" id="8″]
Coat  jar with Mod Podge and roll in Epsom Salt for this snowy effect like these jars by One Good Thing by Jillee.
Learn how
here
![spacer height="-100px" id="8″]
Once you have the basics down you can experiment using different items and gluing them together. Try martini glasses instead of candle sticks, covered apothecary jars instead of vases, or try stacking different shaped jars on top of each other.
 Learn how to make this using a martini glass frm [spacer height="-100px" id="8″] here!
When you've made the Hurricane Lamps and Vases you can use them just about anywhere in your home.  You can even use them on your candy buffets.
Fill them with cranberries, ornaments, and candy for the holidays.  Adding ribbons and garland make a nice touch too!
If the vase is too wide set a smaller vase, can, or even toilet paper roll in the middle.  Fill outer ring with ornaments or whatever.  If you want to add flowers then use a thing vase and put flowers in that vase
Use Epsom Salt as fillers or to create a Wintery Snow Scene like
Rebekah Gough
did.