On Christmas Morning my children and grandchildren arrive at my house to open presents and have brunch, it's another family tradition started when the kids were young.
Our usual routine is orange juice and cocoa or coffee in the kitchen before we head over to the formal living room to distribute and unwrap gifts.  This ritual takes at least 2 hours and I usually pop in to the kitchen to toss the egg dish in the oven during the last hour or so.
When the kids were younger we served a plated breakfast at the table, these days with in-laws and grandkids there's just too many of us for a proper sit down breakfast, not to mention the unwrapping ritual takes us longer,  so we set up a brunch buffet instead.  Although times have changed the menu has not.  I like to keep it simple and easy to prepare so I look for things I can prepare the night before and throw in the oven before brunch.
Our traditional menu includes:

Chile Relleno Torta – a delicious baked egg dish, I got the recipe years ago from Diane Mott Davidson's book "Dying for Chocolate".  For recipe
click here!
I serve this with fresh warm tortillas, salsa, and sour cream on the side.
French Toast – I try different types every year.  This year I will try this Overnight Creme Brulee French Toast recipe from Carl's Bad Cravings.  For recipe
click here
!
Fried and Scrambled Eggs
Breakfast Meats
Hash Brown Potatoes
Coffee, Cocoa, and juice
Here a a few ideas I found around the web you may want to try this year.
Cinnamon Cream Cheese Roll-Ups by
Rindy Mae
Strawberry Santas by Leanne Bakes
Recipe here!
Omelet Breakfast Bites by Raining Hot Coupons
Recipe here!
Fruit Trifle from Chef in Training
Recipe here!
Funfetti Buttermilk Pancakes by Sally's Baking Addiction
Recipe here!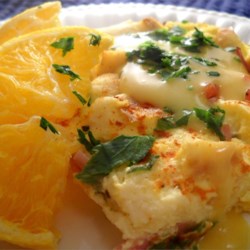 Eggs Benedict Casserole from All Recipes
Recipe here!