Conde Nast has rated Maui as "The Best Island in The World" for 20 consecutive years. There's no mystery why Maui has held this honor for two decades, Maui is truly a magical island filled with natural beauty and wonder.
If you're looking for romance you don't need to look far when you're on Maui. The island's beauty is the perfect backdrop for romance. Here is a list of romantic things to do on the Valley Isle.
Haleakala Sunrise
Watch the sunrise over the Haleakala then
bike
down the mountain at your leisure.
Sunset Cruise
Sail on catamaran sunset cocktail cruise.
Helicopter Tour
Get a bird's eye view of the Valley Isle on a helicopter tour.
Horseback Riding
Go on a horseback ride on the beach.
Whale Watch
During the Whale Watching Season set sail on a Whale Watching Cruise and be awed by these gentle giants. Humpback whales return to the relative safety of Maui's warm waters each year to give birth to their calves. They normally arrive between October – November and the last ones leaves around June. The peak of the whale watching season is between February – March when whale sightings are abundant.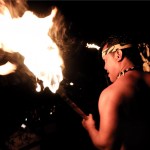 Luau
Go to a Luau on the beach. The Feast at Lele serves up a sit-down 5 course dinner and entertains you with music and dance from the Pacific Islands.
Road to Hana
One of the must do's on Maui is the drive to Hana on the winding Hana Highway. See some of the most beautiful scenery on the island, take a dip at under a water fall, and drive over 59 historic bridges along the way.
This requires a whole day; you might consider an overnight stay in Hana to explore Hana's beauty.