Unicorns seem to be all the rage these days!  You see these magical creatures on everything from t-shirts to backpacks to sunglasses.  And why not?  They're adorable!  I myself have recently gone bonkers making unicorn crafts and selling them on Etsy and Facebook.  Any they've been selling like hotcakes!
But you don't have to spend lots of money indulging your love the the magical unicorn there are many DIY unicorn crafts you can make for very little money using supplies you already have at home.
To help you get started here are 5 adorable unicorn crafts you and your kids can make at home.
Unicorn Mason Jars
These are one of my best sellers.  They make great centerpieces for unicorn themed parties!  They're easy enough to make at home all you need are mason jars pretty much any size, I usually make them in pint and quart sizes, or any empty jar you have at home like a pickle jar, rubbing alcohol, acrylic paints in any color you want, I use Apple Barrel paints, a paint brush, and craft foam to make the horn, ears, and flowers, I use foam sheets with adhesive backs but you can use regular sheets and just glue them on.
All you do is clean the jar's outside surface with rubbing alcohol (this allows the paint to stick better) and let dry completely.  Paint the jar in the color you want, you may need to do 3 or more coats but let paint dry between coats.  Then cut out the horn, ears, flowers, and eyes and stick them on the painted jar.  How easy is that!  It's a great way to recycle those jars you've been stashing in the kitchen!
Unicorn Gift Bags
Here's another best seller that's so easy to DIY.  Unicorn gift bags!  Who wouldn't love to receive a gift wrapped in this adorable gift bag?  You can use any size bag, yes even a lunch bag!  Or a plain kraft bag with handles you can buy at the craft store.  Just cut out the horn, ears, eyes, and other embellishments from card stock or construction paper and glue them on the bags.
Hey these unicorn bags make great favor bags for unicorn parties too!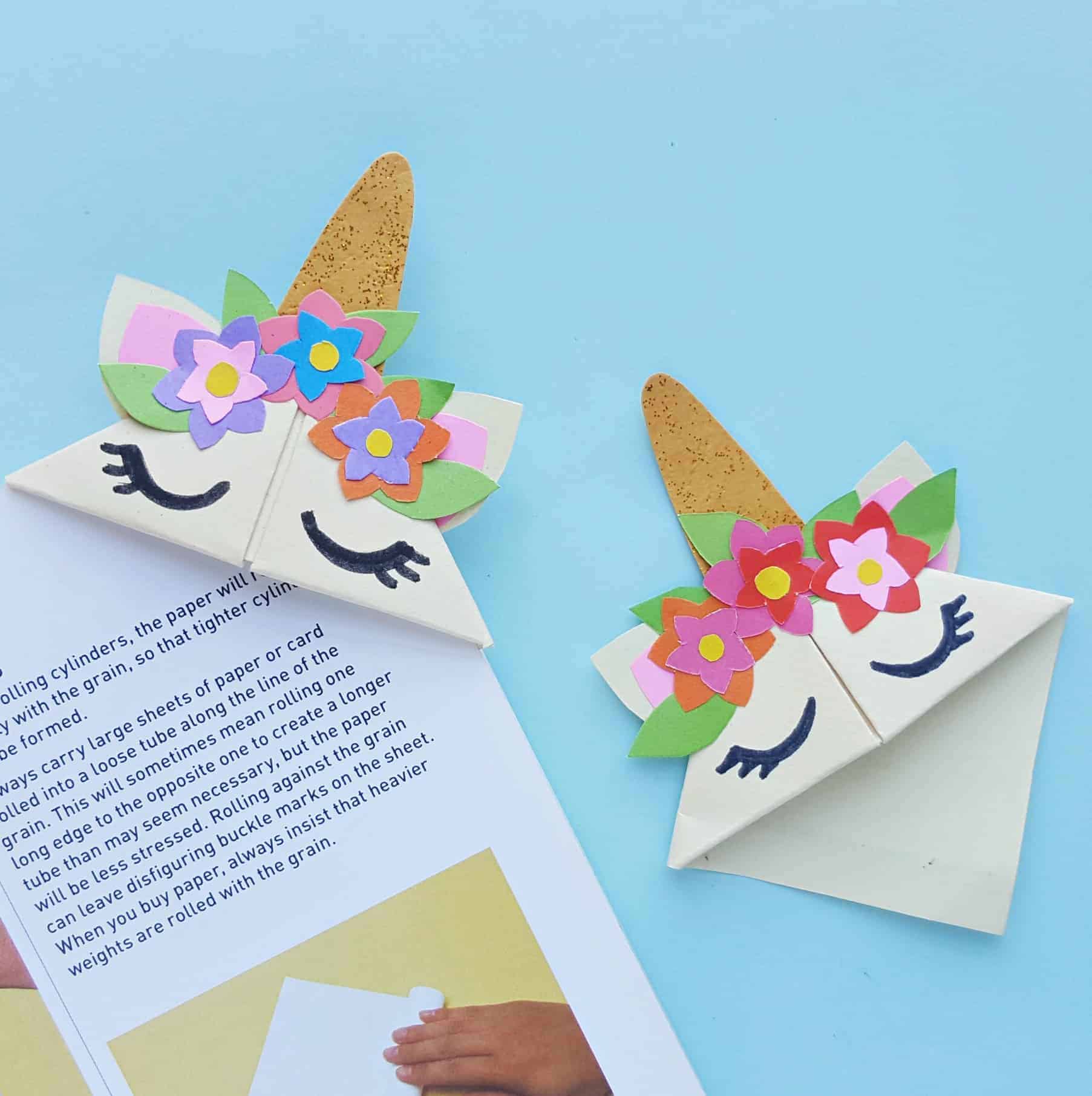 Unicorn Book Marks
These book marks are too cute!
Here's a tutorial from The Inspiration Edit!
I'm sure you and the kids will end up making a bunch to keep and to give away!
Hey it's a great activity at a unicorn party too!
Unicorn Pencil Holder
Here's a great way to recycle tin cans.  Turn them into Unicorn Pencil Holders!
Here's a tutorial from Crafts On Sea.
Unicorn Masks
Here's a fun craft from Simple Mom Project.  Unicorn masks!
Click here for instructions and template!